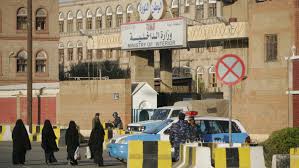 Yemeni Interior Ministry Called on Citizens to Beware of Rumors
YemenExtra
SH.A.
An official source at the Yemeni Interior Ministry said that "there is absolutely no truth to the news of the storming of the headquarters of embassies in the Yemeni capital , Sana'a.
The source said in a statement to all local news agencies that the news is incorrect and that the situation is stable in the capital.
As well as ,the source called on citizens to beware of the rumors tendentious, deliberately informing the coalition and his forces, which fired from time to time to disturb the tranquility of the public.
Read More;
Ministry of the Interior condemns the attacks on civilians by Tariq Saleh militias