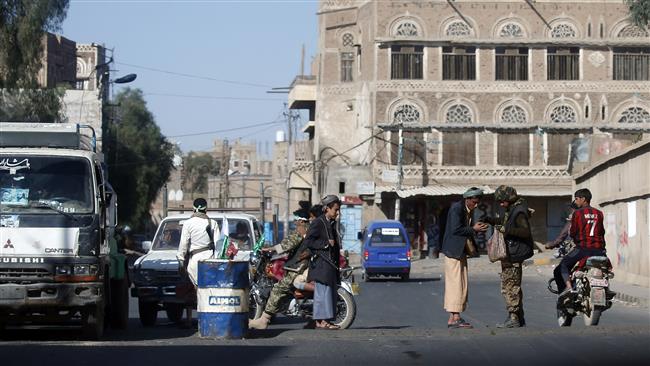 Situation Under Control in the Yemeni Capital of Sana'a
YemenExtra
Confirmed some sites that the situation in Yemen and its capital Sana'a is under control, Press TV had published a report under the title,Situation under control in Sana'a:
Yemen's Supreme Political Council which runs state affairs says the situation in the capital Sana'a is back to normal following days of violent clashes between forces loyal to ex-president Ali Abdullah Saleh and Houthi fighters.
In a statement released on Saturday, the council's head Saleh Ali al-Sammad called on all the Yemeni people, political parties and tribes to exercise patience, counteract any act of aggression, and not contribute to the "conspiracies" meant to stoke tensions.
"The security services continue their efforts to enhance security and stability, and all those who try to destabilize the security are being dealt with seriously," Sammad said.
Preserving public tranquility and safety in Sana'a, which has become a symbol of the Yemenis' dignity, is a strategic issue for Yemen's Supreme Political Council, he added.
The Yemeni official also urged the "wise" Yemeni citizens to cooperate with the national and political forces on maintaining the country's stability.
He further expressed deep regret over recent developments in Yemen, which exacerbated people's suffering from a Saudi-led military aggression and siege.
"All figures, wise people and all citizens must exercise the highest degree of responsibility and discipline and bear the responsibility during the current stage to spare the country the scourge of strife and conflict," he concluded.
Speaking in a televised speech on Saturday, Saleh whose forces were allied with the Houthi fighters against Saudi Arabia made an overture to the alliance, which has been waging a deadly war on the impoverished nation since March 2015.
Saleh said he is open to talks with Saudi Arabia and ready to "turn the page" if Riyadh and its allies lift the blockade and halt airstrikes on Yemen.
Houthi leader Abdul-Malik al-Houthi described Saleh's stance as a "betrayal" and stressed that the former president must reassess his policies that are favored by Yemen's enemies.
Forces loyal to Saleh "continue to move toward chaos and disturbance of security and stability" in the Arab country, he said, describing the former president's move as a "coup" against the Yemeni alliance.
"We must continue to support the fighting fronts because this plot is the last card of the forces of aggression, through which they seek to facilitate their occupation of our country," Houthi pointed out.
Saudi Arabia has been incessantly pounding Yemen in an attempt to crush the Houthi Ansarullah movement and reinstall ex-president Abd Rabbuh Mansur Hadi, a staunch ally of Riyadh, but the kingdom has achieved neither of its goals.
The Saudi war, which has been accompanied by a land, naval, and aerial blockade of Yemen, has so far killed over 12,000 people and caused one of the worst humanitarian catastrophes in recent times.