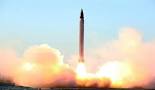 Will the Rocket of Abu Dhabi End the War Equation?
YemenExtra
Targeting of Al-Braha Nuclear Power Station in the western region for Abu Dhabi with a new winged rocket "croz" comes in coinciding with falling of the last paper of the coalition to break the dominance and the will of Yemeni steadfast people.
Where the military information indicates that the rocket hit his target with high accuracy and causing great material and human damage, and the UAE seeks to cover these losses in the media and in order to not collapse the morale of their army and to not destabilize the security and the stability in their country.
According to a source in the missile force, the launch of the cros rocket at Al-Braka reactor in Abu Dhabi came after the successful test of the missile at the end of August, and the missile that was fired at Al-Braka reactor in Abu Dhabi with a range of 1600 km.
Al-Braka Nuclear Power Station is located in the western region of Abu Dhabi and overlooks the Arabian Gulf, about 53 km from southwest of Ruwais, and in 2020, this site will contain four nuclear power station.
The four power reactors at Al-Braka Station will provide about quarter of the country's electricity needs, and the number of employees in the Emirates Nuclear Energy Foundation now more than 1,700 and it is expected to reach 2,500 to operate and maintenance the stations.
Construction work in the station began in July 2012 after obtaining the construction license from the Federal Authority for Nuclear Regulation and the no objection certificate from the Environment Authority – Abu Dhabi.
This project will play a basic role in diversifying the energy sources in the country and will provide a great amount of energy to homes, companies and government facilities while reducing the country's carbon fingerprint, and after the full operation for the station, Al-Braka station will reduce carbon emissions in the country about 12 million tons per year.
Earlier, the leader of the Yemeni revolution, "Abdul Malik Badr al-Din al-Houthi," on September 14, 2017 warned UAE and foreign companies, saying that the UAE is henceforth unsafe country and under the possibility of missile bombardment at any time, pointing out that the Yemeni missile force during the current month launched a missile test, its range reach to Abu Dhabi.
The Yemeni missile force on November 4, 2017, targeted the King Khalid International Airport in Riyadh with a long-range ballistic missile type (Borkan 2) which was developed from the rocket (Borkan 1) which was also developed from the rocket (Scud), which raised the fears of the aggression.
There are also several questions in the UAE-Saudi street, will the Yemeni ballistic missiles end the war equation on Yemen? Or does the missile of Abu Dhabi reveal the UAE's disputes to the public?
Websites