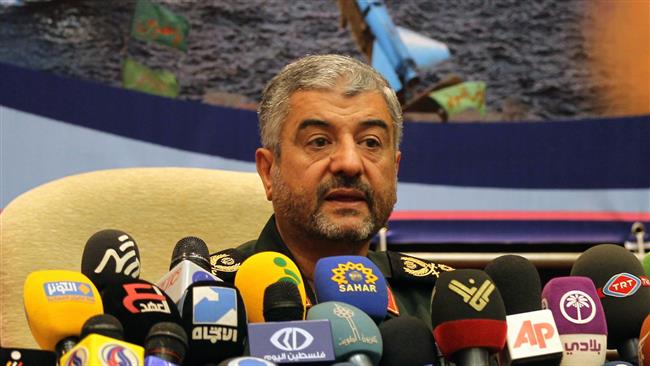 Saudi coup plot in Yemen nipped in bud: Senior Iranian commander
YemenExtra
M.A.
The chief commander of the Islamic Revolution Guards Corps (IRGC) says the Saudi regime has failed in its attempt to stage a coup d'état in neighboring Yemen.
"We witnessed that they (Saudis) intended to stage a coup against [Yemen's] fighters and Ansarullah [movement] but this conspiracy was nipped in the bud," Major General Mohammad Ali Jafari on Tuesday.
The senior commander further said the "traitorous" Saudis have been after destabilizing Muslim nations in the region by engaging in confrontation with them.
"Backed by Americans and on their orders, the Saudis are seeking to create division among Muslims, and are going hand in hand with the Israelis."
Jafari's comments came a day after Yemen's former president, Ali Abdullah Saleh, was killed while escaping from the capital, Sana'a, to Ma'arib Province.
Saleh, who had joined forces with the Houthis to defend the country against the brutal Saudi aggression, officially announced on Saturday the end of his alliance with the movement, which has been at the forefront of battles against the foreign forces and their mercenaries.
Speaking after the death of Saleh, Leader of Yemen's Ansarullah movement, Abdul-Malik al-Houthi, said that the movement had managed to foil a major threat to the country's security by defeating the plot hatched by Saleh and his forces.
The Ansarullah leader also said the recent positions taken by Saleh were openly in favor of Yemen's enemies.
Despite all enemies' plots, the Yemeni nation will continue to become more resistant and stronger, and other enemies must learn a lesson from the failure of Saleh's plot in Sana'a, he said.
Saudi Arabia, backed by a coalition of its vassal states, launched the war on Yemen in early 2015 with the aim of reinstalling Yemen's former government, a close Riyadh ally.
The military campaign has killed over 12,000 people to this day, but has failed to achieve its objectives in the face of resistance by the Houthi fighters and allied popular forces.
Source: PressTV