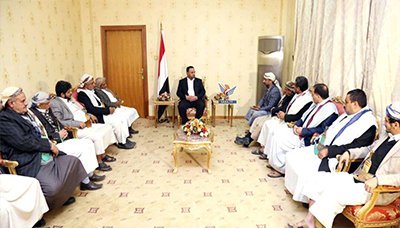 Meeting, reviewed the situation in al-Mahweet province
YemenExtra
SH.A.
President of the Yemeni Supreme Political Council Saleh al-Sammad met  on Sunday a number of sheikhs and public figures of Mahweet province.
The meeting reviewed the situation in Mahweet province and its needs in terms of the services and projects, especially in the current conditions under the continuation of the aggression and blockade, which left catastrophic effects on citizens' life.
President al-Sammad pointed in the meeting to the sedition that took place in Sana'a, which was ended by the cooperation of all with the state's apparatus.
"Only by faithful men who are loyal to their country and people, the homeland will have room for all and be prevailed by justice," al-Sammad said.
He praised the positions and efforts of the province's leadership, sheikhs, notables and people at the different turns experienced by the homeland.
The sons of Mahweet province confirmed that they will stand unified in the front of countering the aggression and against anyone tries to harm the security, stability and the social peace.