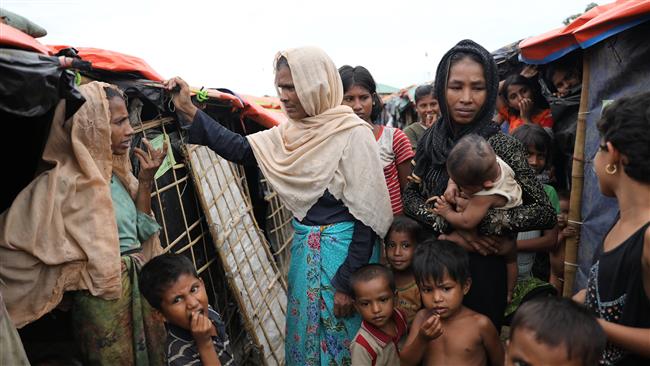 Myanmar military's rape of Rohingya women methodical, sweeping: AP report
YemenExtra
M.A.
A new investigation reveals that Rohingya Muslim women have been subjected to "methodical" and "sweeping" rape by Myanmar's military forces in Rakhine State, where a government-backed ethnic cleansing campaign has been underway against the minority group.
The investigation was conducted by the Associated Press based on interviews with 29 Rohingya women and girls, who survived sexual assault and have managed to take refuge in neighboring Bangladesh.
The Rohingya women and girls, who came from a variety of villages in Myanmar, told their horrifying stories of being raped several times by Myanmar's armed forces. They talked to investigators separately from across several refugee camps in Bangladesh, according to AP.
Each of every women described that they were attacked by groups of men. They said the rape often coupled with other forms of extreme violence. They said the attackers wore military-style uniforms, generally dark green or camouflage.
The survivors, ranged in age from 13 to 35 year old, gave their names to AP, but agreed to be publicly identified only by their first initial.
The new report brings to mind a UN official's remarks about the use of sexual violence by the military against Rohingya women as "a calculated tool of terror aimed at the extermination and removal of the Rohingya as a group."
Pramila Patten, UN envoy on sexual violence in conflict, said previously that sexual violence "was clearly a driver" for more than 620,000 Rohingya Muslims to flee Myanmar.
Patten, who spoke to rape victims in refugee camps in Bangladesh, said that this type of violence "has been commanded, orchestrated, and condoned and perpetrated by the armed forces.'
Doctors Without Borders, also known by the French acronym MSF, said its volunteers have treated 113 sexual violence survivors since August. It said that the youngest survivor was nine.
Myanmar's officials, however, have so far denied rape allegations and, instead, accused Rohingya women of "claiming they were raped."
The Rakhine minister for border affairs said in September that "these women were claiming they were raped, but look at their appearances – do you think they are that attractive to be raped?"
This is while Myanmar's de facto leader Aung San Suu Kyi admitted previously that her country's armed forces used rape as a weapon to intimidate ethnic nationalities. Suu kyi, who has come under global scrutiny for backing the ethnic cleansing campaign, made the remarks in a videotaped statement to the Nobel Women's Initiative back in 2011.
More than 600,000 Rohingya Muslims have fled the violence to Bangladesh since late August, when the clampdown began, bringing with them horrifying stories of massacres, gang rape and arson by Myanmar's military forces and Buddhist mobs.
Myanmar's government calls Rohingya Muslims Bengalis to imply they are immigrants from Bangladesh.
It has defied calls by the UN and the international community to grant citizenship to the stateless Muslims, whose roots in the country go back centuries.