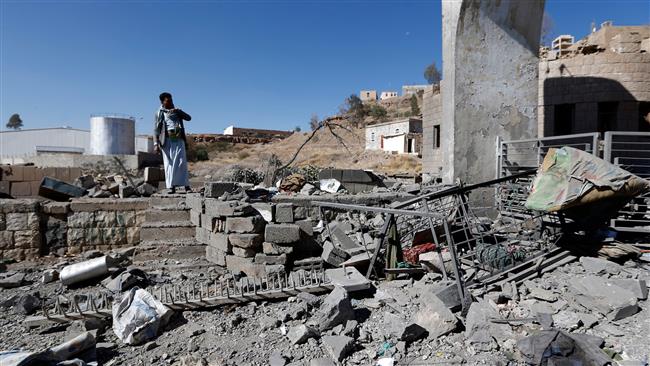 UN chief seeks Trump's pressure on Saudis to end 'terrible suffering' in Yemen
YemenExtra
M.A.
UN chief Antonio Guterres has called on the US to pressure Saudi Arabia into ending the "stupid war" which is causing "terrible suffering to the Yemeni people" and also harming the kingdom and the UAE. 
"I believe this is a stupid war," Guterres told CNN on Sunday in an unusually blunt language, adding that what Yemen needed was "a political solution."
"I think this war is against the interests of Saudi Arabia and the Emirates… (and) of the people of Yemen," he added.
Saudi Arabia and the UAE have been bombing Yemen since 2015 in a campaign which has destroyed much of the country's infrastructure and left it grappling with what the UN calls the world's worst humanitarian crisis.
The bombings have left more than 12,000 people dead while a cholera outbreak has claimed more than 2,000 people. According to the UN, around seven million Yemenis are also on the verge of starvation.
"This war is causing, in my opinion, terrible suffering to the Yemeni people," the UN chief said, adding, "It's in the interests of everybody to stop this war."
Guterres said he hoped Riyadh would lift its blockade of Yemen's ports, which has compounded the country's misery. "I hope that President Trump has put a lot of pressure recently…," he added.
The United States is an ally of Saudi Arabia in the military campaign against Yemen, providing logistical, and advisory support such as bombing coordinates as well as arms and weapons which have drawn condemnation from rights groups.
The US sealed a massive arms deal with Saudi Arabia in May during Trump's first visit abroad as president, in a move that solidified Washington's decades-long alliance with the world's largest oil exporter.
The agreement, worth $350 billion over 10 years and $110 billion that would take effect immediately, was hailed by the White House as a significant expansion of the security relationship between the two countries.
Lockheed Martin was one of the world's largest military contractors whose technology was part of the US-Saudi accord.
The deal represented a softening of the US position on the widely criticized Saudi war and support for "endless quagmire" in Yemen, US news channel CNBC said at the time.
Amnesty International, which has recorded human rights violations in Yemen, said the deal "has President Trump throwing gasoline on a house fire and locking the door on his way out."
"There is damning evidence that war crimes have been committed by the Saudi-led coalition and continuing to arm Saudi Arabia fuels serious human rights violations that are causing overwhelming civilian suffering in Yemen," wrote Eric Ferrero, Amnesty International USA communications director.
PressTV