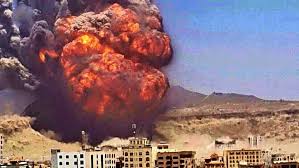 Call for Int'l Action Against US Weapons Used to Kill Yemenis
YemenExtra
SH.A.
The international community should stop the United States from supplying Saudi Arabia with arms that are being used by the Saudi-led coalition in Yemen to kill innocent people, a member of the National Security and Foreign Policy Commission said on Friday.
Heshmatollah Falahatpisheh made the remark in response to US Ambassador to the United Nations Nikki Haley's recent claims about Iran's role in the Yemen conflict.
"Haley has been tasked with making false accusations against Iran to form an anti-Iran coalition, but so far she has not been successful," he said.
The US accusations are leveled against Iran despite the fact that it is openly supplying weapons to Saudi Arabia to kill civilians in Yemen.
US President Donald Trump signed a $110-billion contract in May to sell arms to Saudi Arabia, which has assembled a military coalition in Yemen to restore power to ousted president Abd-Rabbu Mansour Hadi.
According to a Los Angeles Times report, the bombs used in an airstrike by Saudis against Yemen in October were manufactured in the United States.
"We call on the international community to consider the crimes committed through American made weaponry," Falahatpisheh said, referring to the US arms trade as its main source of income.