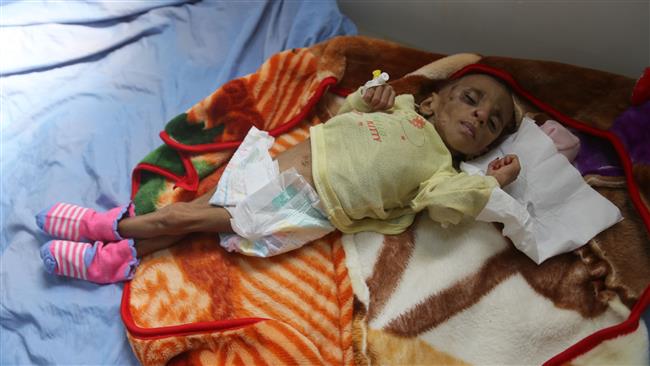 Yemeni children: a major human tragedy after one thousand days of aggression
YemenExtra
Y.A
A thousand days was the most severe on the children of Yemen. It began on the twenty-sixth of March 2015 and still until the moment by the aggression of Saudi Arabia, where the children faced the specter of death by missiles, hunger and diseases.
A thousand days of scattered bodies, charred bodies and meager bodies, sights and images will not be erased from memory and will remain a disgrace in the hearts of humanity and international organizations that turned a blind eye to the crimes of aggression against the children of Yemen using internationally prohibited weapons.
The Ministry of Health has documented the deaths of two thousand and 59 children and wounded three thousand and nine other children in brutal massacres committed by the aggressive Air Force to target their homes, schools and places of play, attend social events with their families, mosques, markets and other civilian facilities protected under international humanitarian law.
UN: 150,000 Yemeni children on the brink of starvation due to Saudi blockade
The Saudi-led aggression coalition violated the rights of Yemen's children and committed crimes amounting to war crimes. UN Secretary-General António Guterich put him on the black list of violators of children's rights this year after briefly adding him to the list last year, Due to Saudi pressure and threats to the United Nations to stop funding.
A thousand days ago, the hopes and aspirations of the children of Yemen are shattered with the collapse of their homes and schools and the spread of diseases and epidemics that threaten their lives, especially with the inability to cope with the largest crisis of food security in the world and the spread of diseases at unprecedented levels and the denial of access to basic water and sanitation services Health, nutrition and education.
"Today, Yemen is one of the worst places in the world for children," says UNICEF. The United Nations Office for Humanitarian Affairs (OCHA) says 11.3 million children in Yemen need humanitarian assistance as a result of the situation in the country since March 2015.
The aggression forced hundreds of thousands of families to flee and leave their homes and villages after being besieged by death in search of life for their children. However, their suffering was exacerbated by their setting up in public places such as schools, medical and sports facilities or in incomplete buildings that lacked the basic necessities of life. Aggression.
Hunger, disease kill 130 Yemeni children daily as Saudi-imposed blockade lingers: Charity group
Thousands of displaced people, including children, are reported to be malnourished. Some require psychosocial support, and overcrowding and unhealthy conditions in areas of displacement lead to outbreaks of diseases, including skin diseases.
Reports show that 55 percent of the 2.9 million displaced people are children, and an estimated 513,000 children are not enrolled in school.
The poverty rate and the deterioration of the economic and living conditions of families, and burdened the debt of nearly 80 percent of them and decreased their sources of income after the suspension of salaries after the decision of the aggression and its agents transferred the Central Bank of Yemen to Aden; Nutrition, cholera and other diseases and epidemics.
According to international reports, 2.3 million children in Yemen are deprived of health care. Every 10 minutes a child dies of preventable diseases such as diarrhea, respiratory diseases and malnutrition. The Ministry of Public Health and Population reports that 52,000 children died last year.
One days of aggression has worsened the situation in terms of malnutrition. Two million Yemeni children today suffer from the disease, which means that a generation of children is threatened with stunting and lack of adequate growth to cope with the future, while 400,000 children face increased risk of severe acute malnutrition According to UNICEF.
Organizations warn that 2 out of five children aged 5 to 69 months will suffer acute malnutrition by 2018.
According to UN reports, 26 percent of suspected cholera cases are for children under the age of five and 56 percent for children under 18.
Official reports confirm that the disruption of aggression to 55 percent of health facilities and services deprived children of routine immunization doses against 11 fatal diseases, reduced immunization coverage and the emergence of many diseases, including diphtheria.
The US-Saudi aggression has deprived thousands of children of their right to education by destroying 2,260 schools and educational facilities. International organizations stress the need for 2.3 million school-age children to support education, including 1.1 million children living in severely affected areas.
For over a thousand days, Yemen's children have been exposed to all the risks posed to their survival
Source: YemenPress