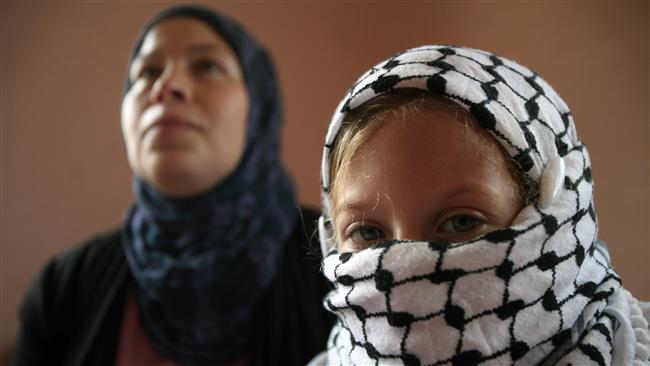 Palestine's girl hero may face sexual harassment in Israeli custody
YemenExtra
M.A.
A 16-year-old Palestinian girl, who has become the face of resistance by Palestinian youth against the Israeli occupation of their land, is facing threats of sexual harassment amid calls by radical Israelis to "exact a price" on her "in the dark."
Ahed Tamimi became the latest face of Palestinian resistance when footage emerged of her slapping one and then another fully-armed Israeli officer in the face during a protest in her home village of Nabi Saleh, near the Palestinian city of Ramallah.
Israeli forces had earlier shot her cousin in the face. During a confrontation that reportedly erupted over that shooting, Ahed, recognizable since young age by her blond curly hair as well as her courageous posture, slapped and kicked two Israeli forces while protesting.
Faced with embarrassment as that video went viral, Israelis decided to arrest Ahed. They went on to take her into custody last week. According to some accounts, 20 Israeli army Jeeps arrived at Ahed's house before dawn to arrest her.
Footage appeared later of her ransacked room, with her belongings strewn across the room, her bed mattress overturned, and her closets emptied on the floor.
In the footage, a window can be seen with what seems to be a bullet hole.
Ahed was arrested along with her mother, Nariman, who has been nabbed five times before, including for filming her children and other youths protesting against Israel.
An Israeli columnist, reportedly notorious for his radicalism, has now called for the punishment of the duo away from the public eye, in what Palestinian and other media suggest is a tacit encouragement of sexual abuse and even rape.
"We should exact a price at some other opportunity, in the dark, without witnesses and cameras," Ben Caspit wrote. "The Tamimi family has to learn, the hard way, that such systematic provocations" come at a great cost.
All the children of Nabi Saleh
Since young age, Ahed has been filmed and photographed audaciously confronting Israeli forces. In one video, Ahed and her parents speak of their desire for freedom from occupation and "injustice."
"If there was no occupation, I would be a soccer player," Ahed says memorably in the video, a short documentary on her struggle and that of other Palestinian youths. "I can't think far into the future because the occupation prevents it."
"Right now, injustice is happening all across the world… We should extend our struggles to one another in order to end all of the world's injustices."
In another footage, she can be seen, along with other children from her village, appearing right in front of the sniper rifle barrel of an Israeli soldier lying on the ground aiming and ready to shoot to block him.
The Tamimi family are known for their strong resistance against Israeli forces in the small Nabi Saleh Village.
Ahed's mother says in the documentary video, "All Palestinian mothers raise their children to be strong, to demand their rights, and to stand against the occupation here on our land."
Speaking of her daughter and referring to the time when Ahed was even younger, she says, "She was only a child and yet she would participate in every demonstration with the other youth out in the street."
Nariman has seen her sons and daughter arrested before, and explains how children in all families have been taken into Israeli custody at one time or another.
"All the children of Nabi Saleh share the same story as the [Tamimi] family," she says.
PressTV