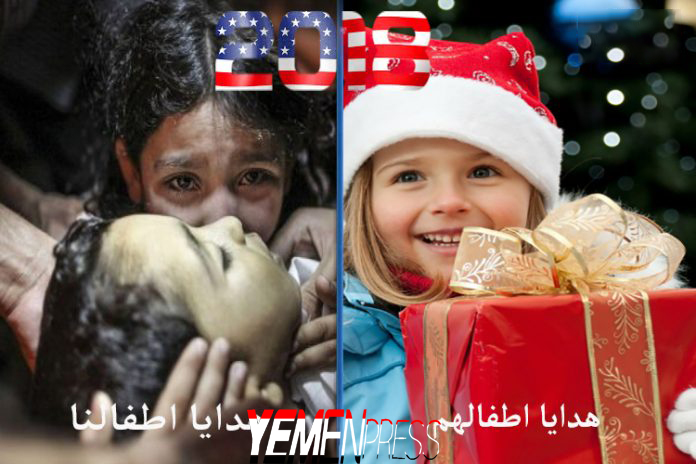 Yemen celebrates in New Year 2018 after a thousand days of steadfastness
YemenExtra
Y.A
A scenes break the heart, when Saudi Arabia and its allies are being committed the worst crimes in Yemen, and the world prepares to celebrate Christmas and the pacifists take the silence to preserve their interests and positions.
Three years and Saudi Arabia is killing the Yemeni people from children and women and unarmed people with various US-British-French weapons, to see the smile on the faces of their children and women, and the blood of Muslims became cheaper from anything on earth, and also became a means to reach to their ominous goals, and it is a shameful purpose in the history.
Yemeni children: a major human tragedy after one thousand days of aggression
In the time that the world celebrates New Year's Day 2018, the Muslim Yemeni people are being annihilated by internationally prohibited missiles that manufactured in Jewish factories, and every day the Yemenis die so that the American and European economy can flourish on the expense of Yemeni blood and people that only wants freedom and independence.
The celebration of the Christmas is by giving gifts, exchanging congratulations, Santa Claus, and the Christmas tree, but the Yemeni people during the period of aggression celebrated his festival in the way of presenting the martyrs, exchanging condolences, Coffins full of victims, the destruction of the country, painful and regrettable scenes.
On Monday, 25 December, in commemoration of Jesus Christ's birth, the fighters of the aggression launched a series of barbaric raids on the Yemeni people, which led to the death and wounding of 51 citizens in Aser area in Sana'a, Zabid district, Al-Jarahi district in Hodeidah and the customs building in Dhamar.
The statistics of civilian casualties during 1000 days of aggression were (35892) martyrs and wounded, the children 2895 martyrs – 3079 wounded, women 2232 martyrs – and 2360 wounded, and men 8476 martyrs – and 16850 wounded, and the total number (35892).
Global figures urge US, UK, France to stop fanning flames of Saudi war on Yemen
This is the reality of 21st century, where made Saudi Arabia a stigma on the forehead of the century and peace advocates in a thousand days were the most harsh on Yemeni children, scenes and images will not be erased from the memory of history.
Source: Yemenpress