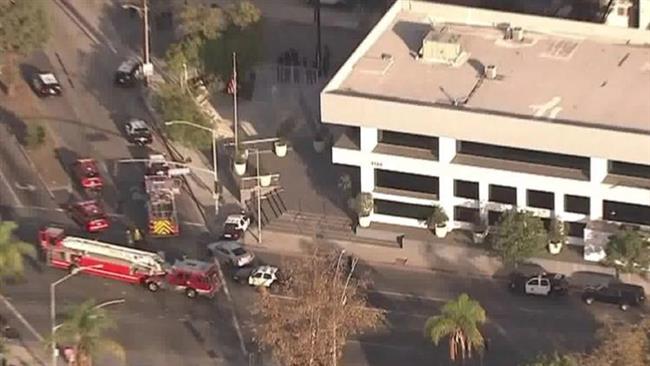 Two dead, multiple people shot at California business
YemenExtra
Multiple people have been shot and at least two people have died in what seems to be a workplace homicide at a business in Southern California, authorities say.
The shooting happened on Friday afternoon at a two-story building located about 20 miles south of downtown Los Angeles in Long Beach.
Officers arrived at the scene after receiving reports of a shooter to see multiple victims, police officials said, but did not give any information about their number or their conditions.
They said that at least one person was injured and two other people, including the gunman, were killed, noting that the incident was over.
They said that both the gunman and the slain victim were the employees of the firm.
Police and fire crews blocked off the area with members of a SWAT team and several ambulances being present on the scene.
People were seen in video running from an unmarked building, which is home to several law offices, shouting about a shooting inside.
"This is a very safe area," said Agnes, 40, who lives in a nearby apartment. "Everything was always fine, we have good neighbors. That is why I am in shock."
More than 33,000 people die annually in the United States from gun-related deaths, two thirds of them suicides, according to the Centers for Disease Control and Prevention.
It is estimated that over 13,500 people have been killed in gun-related violence across the US since the beginning of the year.
Websites.