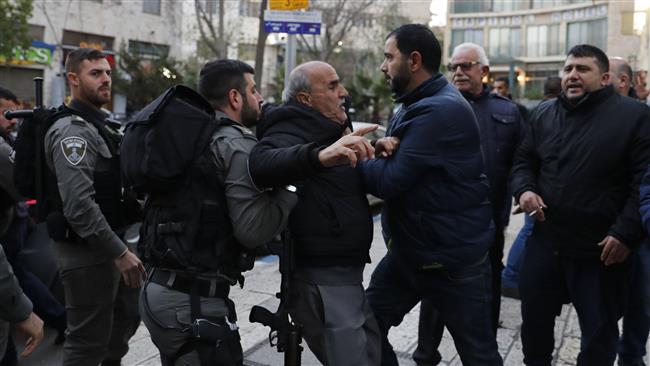 Israeli forces raid West Bank, make new arrests
YemenExtra
Y.A
Israeli forces have carried out raids in several areas across the West Bank during the early hours of the New Year, arresting 26 Palestinians, including a member of Palestinian Legislative Council (PLC).
Safa news agency reported that Israeli forces arrested Nasser Abd al-Jawad, a Hamas member of the PLC, after they stormed his home in Salfit City at dawn Monday.
More than 10 youths were also arrested in the city of Tulkarm in the West Bank.
Meanwhile, Israeli troops stormed a number of Palestinian houses, and deliberately caused damage to them.
According to the report, a young man was detained in the East Jerusalem al-Quds neighborhood of Issawiya.
Almost 6,280 Palestinians are currently being held in Israeli jails, 465 of them under the controversial administrative detention, according to figures provided by the Palestinian prisoners' rights group Addameer.
Palestinian detainees have continuously resorted to open-ended hunger strikes to voice their outrage at the administrative detention, which is a form of imprisonment without trial or charge that allows Israel to incarcerate Palestinians for up to six months.
Palestinian prisoners complain that they have been subject to assault and torture at Israeli prisons.
The wave of arrests on Monday comes amid rising tensions in Palestine over US President Donald Trump's decision to recognize Jerusalem al-Quds as Israel's so-called capital.
In December 2017, Trump announced his decision to recognize Jerusalem al-Quds as Israel's "capital" and relocate the US embassy from Tel Aviv to the holy city.
Jerusalem al-Quds remains at the core of the Israeli-Palestinian conflict, with Palestinians hoping that the eastern part of the city would eventually serve as the capital of a future independent Palestinian state.
The dramatic shift in Washington's policy vis-à-vis the city has triggered demonstrations in the occupied Palestinian territories, Iran, Turkey, Egypt, Jordan, Tunisia, Algeria, Iraq, Morocco and other Muslim countries.
Source: Websites