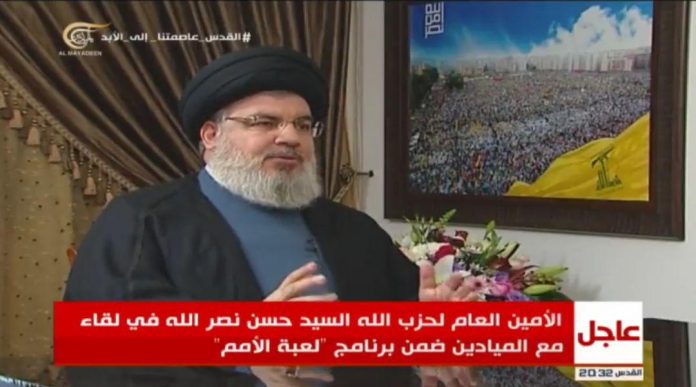 Hezbollah 'ready' if war is waged against them: Nasrallah
YemenExtra
Y.A
Hezbollah's Secretary General Sayyed Hassan Nasrallah conducted an interview with Lebanon's Al-Mayadeen TV, Wednesday, to discuss a number of regional topics, including the ongoing protests in Iran.
The Hezbollah leader accused the U.S., Israel, and Saudi Arabia of meddling with Iran's internal affairs, adding that their plans to overthrow the government in Tehran had failed.
Among the topics Sayyed Nasrallah discussed at length with Al-Mayadeen on Wednesday was the possibility of war with Israel, which the Hezbollah leader asserted that his forces were 'ready' if such a confrontation were to happen.
The resistance axis does not have the choice to engage in a classic war against the enemy; it rather depends on draining Israeli resources and taking advantage of time," Hezbollah's leader stated.
"Our aim is to resist, not to get in a war, but Trump and Netanyahu might push the region towards war, and the axis of resistance is ready for that… The war aims at hitting the resistance axis, and this axis must change this threat into an opportunity," Sayyed Nasrallah continued.
"Tens of thousands will join our side in any war and the whole axis is preparing itself to transform the threat into a historic opportunity that goes beyond Galilee," he added.
"Hezbollah would never make peace with Israel, neither would it acknowledge this entity legitimately even if the entire world did so," he concluded.
Source : Website