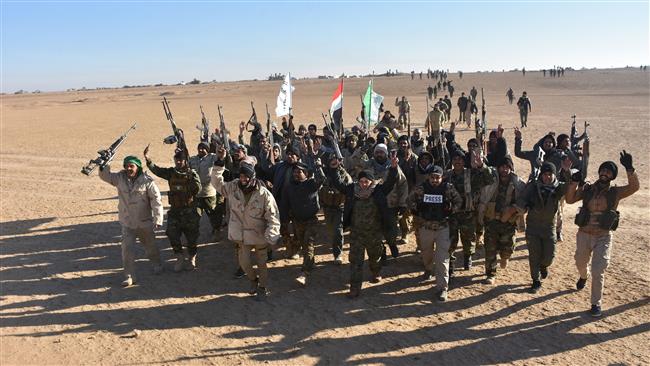 Iraqi forces kill 15 Daesh bombers near border with Syria
YemenExtra
Y.A
The Iraqi Interior Ministry says government forces have launched a counter-terrorism operation to hunt down Daesh Takfiri terrorists near the country's border with Syria, killing more than a dozen extremists in the process.
The ministry's spokesman, Brigadier General Saad Maan, said in a statement on Tuesday that members of the Federal Police force had carried out a surprise attack, and killed fifteen Daesh bombers during the operation, Arabic-language al-Forat news agency reported.
The slain Takfiris had medium weapons and explosive belts in their possession, and were under constant surveillance over the past few days.
On December 9, Iraq's Prime Minister Haider al-Abadi declared the end of military operations against the Daesh terrorist group in the Arab country.
"Our forces are in complete control of the Iraqi-Syrian border and I therefore announce the end of the war against Daesh," Abadi told a conference in Baghdad
Abadi visited the town of Qa'im and the nearby Husaybah border crossing in far western Iraq on November 5, and raised the Iraqi flag at the border crossing.
On October 5, Abadi said Iraqi armed forces had liberated Hawijah, driving Daesh Takfiris out of their last bastion in the oil-rich northern province of Kirkuk.
The Iraqi prime minister said on August 31 that the northwestern city of Tal Afar, located 200 kilometers northwest of Kirkuk, and the entire Nineveh province had been purged of the Daesh Takfiri terrorist group.
The recapture of Tal Afar was made possible with the help of the Iraqi army, Federal Police, Counter-Terrorism Service (CTS) units, Hashd al-Sha'abi fighters and the Interior Ministry's elite rapid response forces, the Iraqi prime minister stated.
On July 10, Abadi formally declared victory over Daesh extremists in Mosul, which served as the terrorists' main urban stronghold in the conflict-ridden Arab country.
In the run-up to Mosul's liberation, Iraqi army soldiers and volunteer Hashd al-Sha'abi fighters had made sweeping gains against Daesh.
The Iraqi forces took control of eastern Mosul in January after 100 days of fighting, and launched the battle in the west on February 19.
Daesh began a terror campaign in Iraq in 2014, overrunning vast swathes in lightning attacks.
Iraqi forces then launched operations to eliminate Daesh and retake lost territory, and last month, Iraqi forces liberated Rawa, the last remaining town in the grip of the terror outfit.
Source: Website