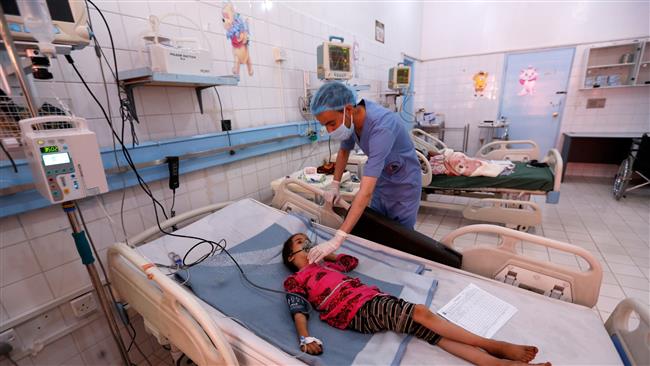 Diphtheria claims 48 lives in Yemen within 60 days: WHO
YemenExtra
Y.A
Diphtheria has claimed lives of at least 48 people within the last two months across Yemen amid the ongoing Saudi military aggression and blockade of the impoverished Arab country.
The World Health Organization (WHO) said in a report on Thursday that diphtheria-related deaths had been recorded in 19 of Yemen's 23 provinces.
Another 610 suspected cases of diphtheria have been reported across the country, it added.
Almost 100 districts in Yemen have reported at least one diphtheria case with a heavy concentration in the province of Ibb, which reported approximately 50 percent of the total infections across the country.
The outbreak of diphtheria, a bacterial disease, coincides with a deadly cholera epidemic that began last April.
According to figures released earlier by the WHO, cholera has claimed more than 2,200 lives in all but one province of Yemen.
WHO representative Dr. Nevio Zagaria has warned that the spread of diphtheria was significantly more dangerous than the already widespread cholera because of its higher fatality rate.
The WHO describes diphtheria as "a vaccine-preventable disease caused by toxin-producing Corynebacterium diphtheria transmitted… through close physical and respiratory contact".
A nearly three-year-old war by Saudi Arabia on Yemen has virtually ruined the country's health system, as critical shortages of medical supplies caused by Riyadh's total blockade have aggravated the humanitarian situation for desperate Yemenis.
Hundreds of health facilities have been destroyed, either completely or partially, as a result of direct Saudi airstrikes.
Saudi Arabia has been leading a deadly campaign against Yemen from the air, land, and sea since March 2015 in an attempt to reinstate former president Abd Rabbuh Mansur Hadi, a staunch ally of Riyadh, and to undermine the Houthi Ansarullah movement. Over the past two years, the Houthis have been running state affairs and defending Yemeni people against the Saudi aggression.
The offensive has, however, achieved neither of its goals despite the spending of billions of petrodollars and the joining of Saudi Arabia's regional and Western allies in the war.
The war, which has so far killed at least 13,600 people, has also taken a heavy toll on the country's infrastructure, destroying many schools and factories.
The United Nations calls Yemen the world's worst humanitarian crisis, with 8 million people on the brink of famine and a failing health system.
Source: Website