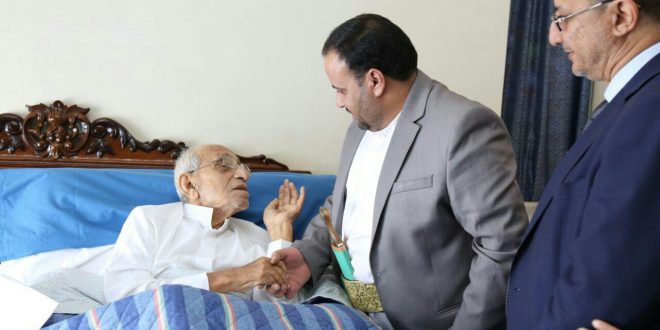 In pictures .. President AL-Sammad reassures the health of the Secretary-General of the Union of Popular Forces
YemenExtra
Y.A

Mr.Saleh al-Asmad, chairman of the Supreme Political Council, assured the health of the Secretary-General of the Union of Popular Forces, veteran fighter and politician Mohamed Abdel Rahman Al-Rubai.

During his visit to the four-day battle, the president pointed out to the great statues enjoyed by AL-Rubai for its heroic and militant positions in various stages and circumstances.

The President of the Supreme Political Council ordered to treat the quadriplegic at the expense of the state .. prying to Allah to grant the speedy recovery fo the politician ,AL-Rubai, .

For his part, he appreciated the visit of the president and his companions, which strengthen the relationship between the political leadership and all the people of the country.