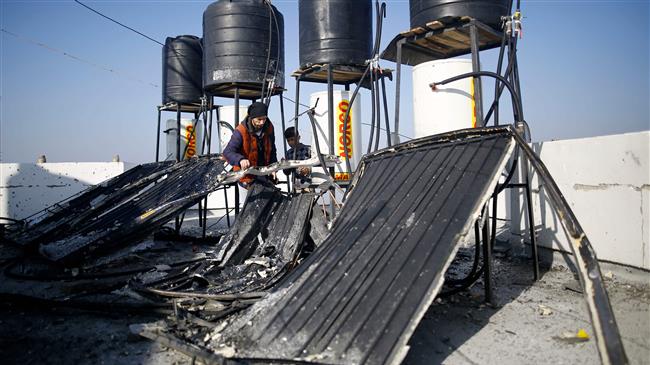 Israel hits Gaza for 2nd time in 2 days
YemenExtra
Y.A
Israeli warplanes have carried out a second attack in two days against targets in the Gaza Strip that Tel Aviv alleges to belong to the Hamas resistance group.
On Saturday, the Israeli military said warplanes had struck "a Hamas compound" in the southern Gaza Strip, "after Palestinians there fired a rocket" into Israel.
There have been no reports of human or material losses from the Israeli offensive.
A day earlier, the Israeli military said its warplanes had hit a target belonging to the Palestinian resistance movement near the city of Beit Hanoun in the coastal enclave's extreme northeast.
The Friday attack took place against "a Hamas observation post," AFP reported, citing the Israeli forces.
The alleged rocket strike was not reported to have caused any casualties or damages, but the Israeli offensive inflicted damage to some residential structures. The agency cited local resident Mohamed Abu Jarad as saying that he and his family had been forced to flee their home after the aircraft released two missiles onto the ground target.
Israel has launched several wars on the Palestinian coastal sliver, the last of which began in early July 2014. The military aggression, which ended on August 26, 2014, killed nearly 2,200 Palestinians.
West Bank developments
In a separate development on Saturday, the Palestinian Shehab News Agency posted pictures on its Twitter account showing Israeli military vehicles rolling into the city of Jenin in the north of the West Bank to arrest a Palestinian.
They arrested three other youths instead.
Clashes erupted between the Israeli forces and Palestinians in the city after the raid. Five people were injured in the scuffles.
Source: Website