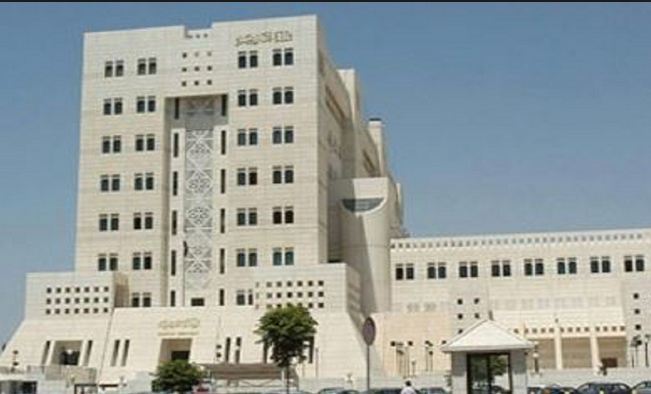 Syrian Foreign Ministry: Some Western Officials "Involved in Terrorist Crimes in Damascus"
YemenExtra
M.A.
The Syrian Foreign and Expatriates Ministry sent a letter to the UN Secretary-General and the head of the Security Council on the attacks carried out by armed terrorist groups on Damascus and its countryside, killing and injuring dozens of innocent civilians, affirming that terrorist officials and others who provide cover for these terrorists are complicit in these crimes.
In the letter, the Ministry said that armed terrorist groups located in the Eastern Gouta targeted Damascus city and its countryside on Tuesday February 20th with scores of lethal shells, killing and injuring dozens of civilians as the shells targeted streets, residential neighborhoods, schools, hospitals, public establishments, and even the headquarters of diplomatic missions.
The Ministry said that this grave escalation by the terrorists, who fired more than 45 shells at Damascus in a few hours claimed the lives of six civilians and injured 29 more as of the date of writing these letters, is a continuation of the crimes committed on daily basis by these terrorists against the citizens in Damascus, as they have fired over 1,500 shells during the past seven weeks, killing and injuring hundreds, most of them women and children.
The Ministry noted that these attacks come at a time when some Western officials and others are carrying out campaigns that can only be described as direct support for these terrorists that encourage them to kill and carry out terrorist attacks without fear of being accountable.
The Ministry affirmed that these officials are complicit in the terrorists' crimes against innocent civilians in Damascus and its countryside, as they are denying the Syrian state's right to defend its citizens, fight terrorism, and confront those who fund and arm terrorists, adding that this is part of the underhanded conspiracy concocted by those officials around seven years ago, during which all parts of Syria suffered from terrorist bombings and massacres perpetrated by terrorists upon instructions from their masters in the capitals of Western and Arab Gulf states.
Syria affirms that these terrorist attacks will not dissuade it from continuing to fight terrorism, working to restore security and stability, and rebuilding what has been destroyed by terrorists and their partners and backers, the Ministry stated.
The Ministry also said that Syria demands an immediate and stern condemnation by the Security Council and the UN Secretary-General of this terrorist escalation, urging the Security Council to assume its responsibility by taking steps against the regimes and states that support and fund terrorism.
The Ministry concluded the letter by stressing that certain Western states' prevention of condemning these terrorist attacks by the Security Council would send a message to the terrorists and their supporters to continue their crimes against Syrians and to keep using citizens in the Eastern Gouta and other areas as human shields and hostages.
Source: SANA