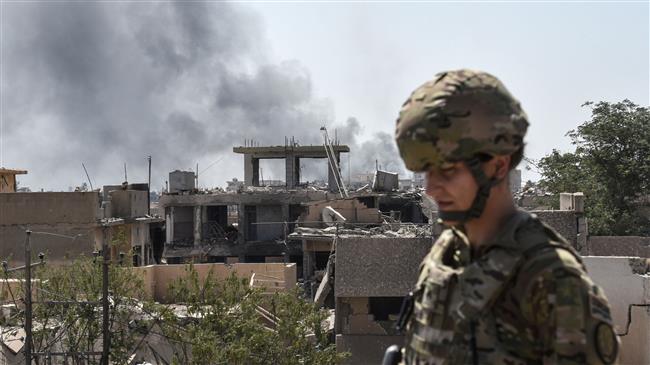 NATO staying in Iraq at Baghdad request: Alliance chief
YemenExtra
Y.A
The NATO chief said the Western military alliance will stay in Iraq at its government's request "as long as necessary" just days after the Arab country's lawmakers called for the withdrawal of foreign troops following the defeat of Daesh terrorists.
"We are here because Iraq wants us to be here, we are not here without the consent and without an invitation from Iraq," Jens Stoltenberg told AFP on Monday during a surprise visit to the Iraqi capital, Baghdad.
He said the alliance had received a "written request" from Prime Minister Haider al-Abadi to keep the troops on Iraqi soil.
"We should not stay longer than necessary, we will train the trainers as long as necessary to make sure IS (Daesh) does not reemerge," Stoltenberg added.
On Thursday, the Iraqi Parliament issued statement, calling on the government "to draw up a timetable for the withdrawal of foreign troops."
A day later, Foreign Minister Ibrahim al-Jaafari said the country would under no circumstances permit the United States to build permanent military bases on its soil, which would be a violation of its sovereignty.
The Iraqi army, backed by popular volunteer forces, managed last December to rid their homeland of the Takfiri Daesh outfit, which had captured large swathes of land in Iraq's north and West at the onset of its campaign of terror back in 2014.
In September 2014, the US and its allies, including those from NATO, launched an aerial campaign against purported Daesh targets in Iraq.
Those airstrikes, however, did little to help the Iraqi forces and led, instead, to heavy civilian casualties and damage to the country's infrastructure. The volunteer forces helping the Iraqi army said on numerous occasions that they have documented evidence showing the US provides Daesh with weapons and military support.
Both the coalition and NATO forces, including around 9,000 Americans, retain their presence in Iraq.
During a summit in mid-February, NATO member states agreed to a US demand for the deployment of a larger military mission to post-Daesh Iraq. Stoltenberg claimed back then that not maintaining such mission on the ground would open the doors for resurgent terrorism.
However, European members of NATO have reportedly been reluctant, fearing another open-ended assignment after more than a decade in Afghanistan.
Some 17 years into the US-led invasion of Afghanistan, the local Taliban militant group has only boosted its campaign of deadly violence there. More recently, the Daesh terrorist group has established a foothold in eastern and northern Afghanistan and stepped up its attacks.
Source: Website