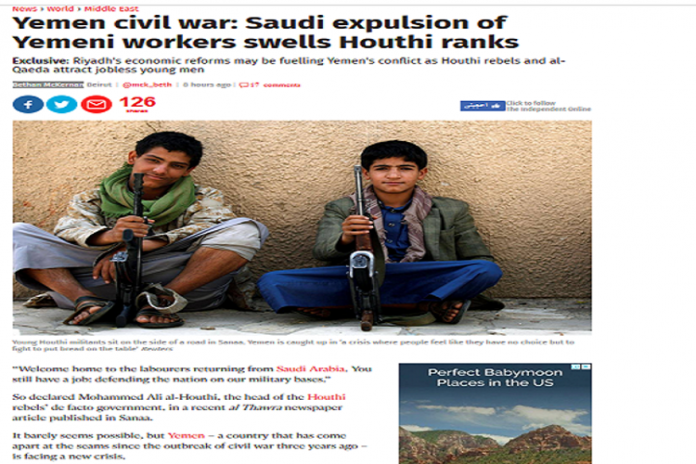 Saudi Expulsion of Yemeni Workers Swells Houthi Ranks: The Independent
YemenExtra
M.A.
The British Independent newspaper published, Monday, an article by Bethan McKernan in which he commented on the expulsion of expatriates from Saudi Arabia and on an article written by the head of the Ansarullah Revolutionary Committee, Mohamed Al-Houthi, calling on the expatriates to return to the homeland and defend it, pointing out that expelling of expatriates will increase the number of combatants among the Yemeni Army and Ansarullah.
The newspaper referred to the article of the head of the revolutionary committee in Al-Thawra newspaper, entitled "Welcome Home", calling for workers returning to Yemen from Saudi Arabia to defend Yemen and considering it very dangerous.
The newspaper said that Saudi security forces were seen penetrating homes and houses, including Yemeni laborers and arrested hundreds of them. The security forces held them for days, before being deported outside the country.
"Now that thousands of Yemenis from Saudi Arabia have returned to Yemen, and in the dire humanitarian conditions that Yemen is experiencing as a result of the war, it is worrying that they will be included in armed groups in the country, especially the Houthi group," the Independent said.
The kingdom has begun deporting thousands of Yemenis since November by expelling Yemenis for allegedly violating labor and residency regulations and employing Saudis.
"Those funds that are depleted and no longer flow from Saudi Arabia could destroy Yemen, it could be worse than the war," the British newspaper quoted Farea al-Muslimi, a Yemeni non-resident fellow at London's Chatham House.
"Fayza al-Sulaimani, who left Yemen for Saudi Arabia in 2015 and is working on aid projects, said that Muhammad Ali al-Huthi's statement is really scary," the Independent said.
The newspaper also quoted a prominent Yemeni businessman in Saudi Arabia as saying that he had been forced in the past two years to lay off five thousand Yemeni construction workers due to the economic crisis facing Saudi Arabia, and the changes it has made in the system of permits.
"Yemeni workers are in a state of uncertainty in Saudi Arabia because of the new laws and are treated as second-class citizens," the newspaper added.
The Independent views the Saudi decision as an action that will exacerbate the calamities of the already fragile Yemeni economy and that it would influence the attempts of dialogue to stabilize the country, which embodies clear evidence of the Saudi regime hatred and its unbridled will to destroy Yemen completely.