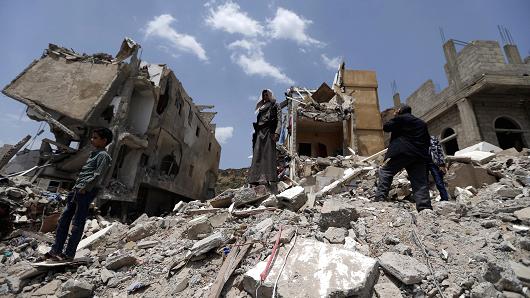 Saudi Airstrikes Continue Raining on Yemen on April 16th: Report
YemenExtra
M.A.
The impoverished country of Yemen has been bombed on a daily basis by the Saudi-led coalition since March 26 of 2015. 
Despite the countless accusations of war crimes perpetrated by the Saudi regime and their allies against thousands of innocent Yemeni civilians, the world has chosen to abandon Yemen and leave it solely facing the worst humanitarian catastrophe, a cholera outbreak, a strangling all-out blockade and a ruthless war that has devastated the already-weak infrastructure.
Speaking of Yemen being subjected to Saudi American bombs on a daily basis, here is what happened in Yemen on April 17th: 
In Hodeidah Province, coastal western Yemen, 6 citizens of one family were killed following the targeting of their house in Al-Haedh area in Hais district.
In Sana'a Province, two women were killed while another five women, a man and a child were injured. A number of houses and communication network were also damaged following 7 air raids on Massar mountain in Manakha district.
According to local sources in Sana'a province, there are reports of new victims following raids on the fortress of Massar mountain in Manakha district.
In addition, a citizen was wounded in a raid conducted by the Saudi-led coalition targeting a farm in Saffan district.
The warplanes of the coalition also waged a raid on the village of Ramada in Nehm district in Sana'a Province.
In Sa'ada, a citizen was injured by the Saudi border guards in the district of Monabeh border district, while Ghor region in Gammur district as well as various areas in Baqim and Razeh were hit by Saudi rocket and artillery attacks. The houses and property of Razih were damaged as a result of the Saudi bombing.
Moreover, the Saudi-led coalition conducted at least 12 airstrikes on the regions of Al-Fara and Al-Sawh as well as Abu Jabarah Valley in Ketaf district, 8 more raids struck different areas of Baqim district, 2 air raids hit Qahzah region northern Saada city, 5 airstrikes hit Alaf area in Sahar district and Al-Sama mountain western the city, in addition to an airstrike targeting Al-Aqzol region in the same district and 4 airstrikes on the central security camp in the city.
Heading to Hajjah Province, 11 air raids hit Haradh and Medhi districts during the past hours, and launched 9 raids on the areas of Faj Haradh and Al-Mazraq, while one more air raid hit the citizens' farms in Al-Jar region in Abss district.
In Lahj, four raids were carried out on the areas of Al-Sharija and Hamala Bakrash.
In Jizan, the Saudi-led coalition launched 10 raids on Dode mountain during the past hours.
A Saudi-led war began against Yemen on March 26 of 2015, in an attempt to reinstall a Saudi-friendly president, Hadi. Hadi was ousted by the Ansarullah revolutionaries, whereas the latter enjoy wide public support, and that is when they took control over the country's affairs with an aim of eliminating foreign intervention or influence over Yemen.