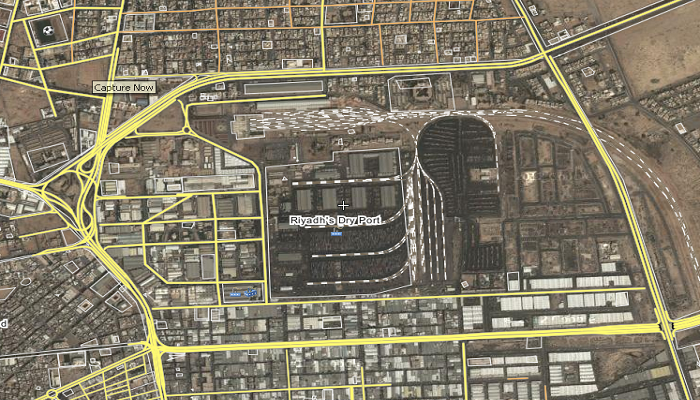 In retaliation of Saudi crimes.. Barrages of Burkan H2 Hit Capital of Saudi Arabia : Report
Report: AA
Yemeni Missile Force launched barrages of ballistic missiles – Burcan H 2 (volcano H 2) against Port dry in Riyadh, Capital of Saudi Arabia, and vital economic targets in Riyadh as well, in retaliation of Saudi crimes against civilians in Yemen which last one was Presidency Office crime.
Riyadh Dry Port is a dry port in the city of Riyadh. It is the largest inland port in Saudi Arabia.  The port is located on off Exit 16 in Al Malaz, adjacent to the Riyadh railway station Riyadh Dry Port covers an area of 918,639 m2 and accommodates six 6,480 m2 warehouses.
The Rocketry Force confirms that the Borkan 2H ballistic missiles hit their targets in Riyadh accurately. Reuters reported that explosions have been heard in Riyadh after launching Yemen ballistic missiles. There are no further details for casualties or damage.
Earlies, Yemen Air Force have launched a barrage of ballistic Missiles, Burkan (2) –typed, against the Saudi Defense Ministry building in Riyadh, Armco facility and unnamed targets, which comes after one a day from head President of SPC`s speech that revealed an able to fire a barrage of ballistic missiles in a day.
Prior to that, Yemen Missile Force have bombed King Khalid Bin AbdulAziz International Airport in southern Saudi Arabia by ballistic missile Burcan-typed three times, last one was on March 26, in addition ballistic missile Burcan-typed hit a nuclear reactor with a winged cruise missile in the United Arab Emirates' capital of Abu Dhabi.
As a part of a national retaliation campaign against the Saudi-led coalition, the Yemeni Air Defense Forces have developed new short-range and long-range ballistic missiles to intensify attacks against vital economic targets and military sites.
Prior to this, the Yemeni Air Force announced they had developed ballistic missiles. One of them, dubbed Qaher 2, is domestically modified with a Soviet SA-2 missile boasting a range of over 300 km. This missile containing a 200 to 400 kg warhead struck a military base, located 966 km south of the Saudi capital, Riyadh, on April 1, 2018, was the first Yemeni rocket reaching to that distance.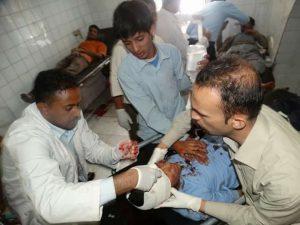 One September 7, 2016, Yemeni army announced a new Yemeni ballistic missiles dubbed Burkan 1-H (Volcano H-1). It is a modified Scud, which they have used to strike a military base near Riyadh al Muzahimaiah: more than 800 km from Sa'ada. Moreover, Yemen Air Force announced Burkan 2-H (Volcano H-2) on February, 2017, which had escaped all US-provided Patriot missiles defenses and landed close to Khalid International Airport near Saudi Arabia's capital, Riyadh, last year.
According to a recent statistic the Air Force launched 192 long-range missiles are Qaher-typed, 5 Scud, 57 Burcan-typed, 14 missiles of Toshka, two Crus-typed, in addition 44 Zelzal-typed 3, 6 Badr –typed 1, as well as 17 short range ballistic missiles.
In additionally, Yemeni Army has short-range tactic missiles, a domestically-manufactured, rocket Piercing star1/2 (al-Najim al-Thaqib). The piercing star 1is 3m long has a range of 45 km and a 50 kg payload. Piercing 2 is 5m long, has a range of 75 and 75 kg payload. Both types have fixed stabilisation fins and are launched from rails rather than tubes.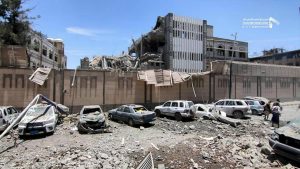 Furthermore, Yemeni army has short-range tactic missiles- type Zelzal1/ 2 (Earthquake), Al Sommud, Al Sarkha, 450 of them have been launched against Saudi` and pro-Saudi fighters` vital targets during three years of the ongoing war, according to a close source in the Yemeni army.
On the anniversary of war against Yemen, AbdulMalike Al Houthi, Leader of Houthis who had been running state affairs in the absence of an official administration, vowed to use long-range weaponry and recruit more fighters in a bid to confront the Saudi-led war against Yemen.
"In the fourth year of the war, we will use more developed and more diverse missile systems which will overcome all American and non-American air defense systems to target Saudi Arabia, Houthi said.
It should be note that Yemeni rocket attacks are in retaliation for Saudi-led coalition operations that killed more than 1300 civilian accompanied a land, aerial and naval blockade that drove Yemen into catastrophe, according to Yemen leaders in Sana, confirming these operations will continue to escalate as long as the war and siege continues".
Saudi Arabia's bloody war on Yemen has killed and injured over 600,000 civilians, including more than a quarter of a million children, since it's onset in March 2015.