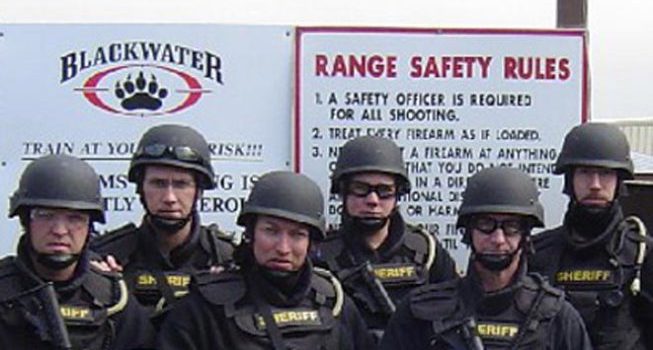 Long-time US losses in the West Coast
YemenExtra
Y.A
L

eaked information, from the corridors of government in the UAE, confirmed that one of the officers and leaders of "Blackwater" was held in the grip of the Yemeni army during the fighting in #the West Coast Front.



A Blackwater police officer, contracted with UAE forces, along with a Yemeni officer and a number of soldiers surrendered to the Yemeni army after being besieged for several days in al-Faza area, south of Hodeidah, Gulf media reported.



In the same context, the UAE sent military reinforcements ,backed by a number of Apache planes, to lift the siege on three armored vehicles in the area of ​​Al-Fayza, a southern military official said.



The official confirmed that these reinforcements were ambushed by the army forces  south of al-Fayza, resulting in more than 35 dead and a number of wounded in addition to the destruction of six military vehicles.



Military sources confirmed ,last week ,that the army managed to hold a French officer, on board of a boat which was seized off the coast of Yemen in the province of Hodeidah.
Abdulmalik al-Houthi, the leader of the Houthi(Ansarallah)  movement, which is the main force that faces the coallition, said on a TV speech ," The decision of invading the Yemeni ,western coast, has been taken and adopted by the United States of America,noting that the Saudis are trying to abolish Yemen's freedom," stressing that it was the people of Yemen's right to defend their country.
"We are increasingly concerned by the fighting in Hodeidah," UN spokesman Stephane Dujarric said at a press conference held on Wednesday.
Dujarric also warned of the repercussions'consequences on the humanitarian situation
"The occurrence of a battle in Hodeidah, in the west of Yemen could lead to the destruction of the port, which in turn will send millions to starvation," said the British newspaper, The Independent.
Even if the UK warned against attacking the vital port of Hodeidah, we bear responsibility for the horrors of this war, according to a report issued by the Guardian on June 17.