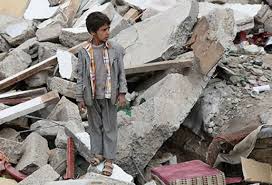 Saudi Humanitarian Violations in Yemen on August 10th of 2018
YemenExtra
M.A.
The Saudi-led coalition on Yemen has continued, Friday, conducting its raids and bombardment on several areas and provinces, leaving killed and wounded civilians as well as property damage.
In Saada, the northern Yemeni Saudi border, the death toll of the Saudi genocide against the children on the school bus in the city of Dahyan has risen to 51, including 40 children, in addition to 79 wounded, including 56 children, and there are still those that are unidentified or missing.
The Saudi military aircraft launched a raid on the border district of Shada and a raid on al-Baqa'a area in Kataf district. It waged a raid on the area of Ghafra belonging to the district of al-Zaher. It also launched 4 raids on the area al-Thriah in the district Suhar and 3 raids on the district of Baqem, while the areas of Ahla in Baqem were subjected to artillery and rocket shells.
In Hodeidah province, western Yemen, an elderly woman and a girl were killed and two other children sustained injuries in a raid on the home of a citizen in al-Direhmi district.
In Marib province, a child was killed and others were injured in an air strike on the house of a citizen in al-Mahjzah area within the district of Sarwah.
In Sana'a, the Air Force of the US-backed coalition launched 21 raids on the district of Arhab and 4 raids on Sana'a International Airport, while two additional raids hit Sbahah.
In the province of Hajjah, a number of 9 raids were carried out on the districts of Haradh and Medi during the past hours.
In Najran, a southern Saudi province, Saudi/UAE warplanes conducted a raid on al-Talaa site.