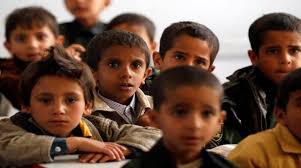 Officials Discussed Ways for Continuation Educational Process in Yemen
YemenExtra
SH.A.
Yemeni Minister of Education, Yahya Badr al-Din al-Houthi met with the United Nations Resident Representative, Humanitarian Coordinator in Yemen Liz Grande.
In the meeting, the officials discussed ways to provide monetary incentives for teachers in the efforts to provide solutions and find alternatives to the problem of delayed payment of salaries to ensure the continuation of the teacher in the performance of his education massage.
Al-Houthi stressed on the Ministry's keenness and continuous efforts to address the problem of late payment of salaries, thus contributing to the alleviation of the living expenses of teachers, noting the efforts of the coordinator of humanitarian affairs and support for the educational process.
For her part, Grande confirmed the provision of cash incentives to teachers before the start of the new school year by convincing a group of donors.
Grande point out to the keenness of the United Nations to continue its humanitarian activities and strengthen its efforts to alleviate the humanitarian situation experienced by the Yemeni people, which reflected negatively on the educational process.