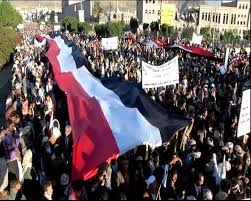 Protests Continue to Denounce Rise in Exchange Rate, Food Prices
YemenExtra
SH.A.
Quoted from Saba News Agency, the Mobilization and Organizing Committee on Tuesday organized in the capital Sanaa the third protest to denounce the rise in foreign exchange rate against Yemeni riyal, which led to rising food prices.
The protestors called on the Secretary-General of the United Nations and his envoy to Yemen and the UN Humanitarian Affairs Coordinator to work to stop the war and the economic war against the Yemeni people.
A statement issued by the participants in the protest pointed out that 75 percent of the Yemeni people are unable to buy enough food since the beginning of the Saudi-led coalition , according to reports of international organizations.
It noted that dumping the market in currency without cover will lead to a humanitarian disaster that can not be avoided, especially among the poor, vulnerable and displaced groups.
The statement called for the return of the Central Bank to the capital Sanaa and paying out salaries of the state employees as the United Nations is the guarantor thereof.