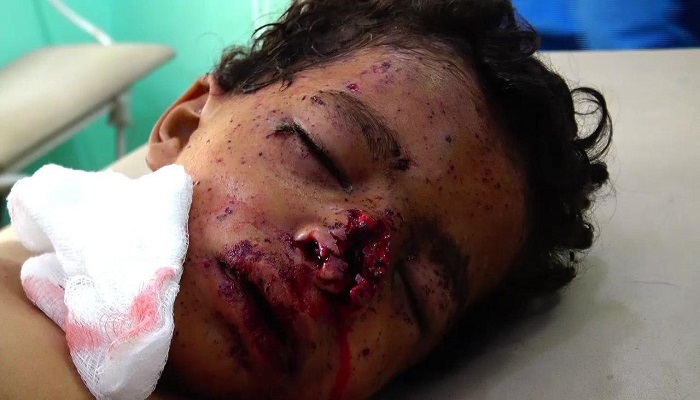 Mass human rights abuses in Yemen by a powerful military force backed by US
YemenExtra
Lives destroyed and a country torn apart by bombings and starvation. Mass human rights abuses committed by a powerful military force backed by US and Britain.
That's the horror of the war in Yemen, revealed last week in a report from a United Nations (UN) panel.
The report, released after an investigation by experts, describes the horrors committed in Yemen's war.
Although the report finds human rights abuses committed by the Saudi-led coalition. What emerges is a picture of systematic yet indiscriminate violence—and all with the approval of the US and Britain.
For a start there's the routine brutality, torture and sexual violence.
The UN found a pattern of "widespread arbitrary detention". In prisons and detention centres controlled by coalition, people have been beaten, tortured and raped.
In March this year, in a prison run by the United Arab Emirates (UAE)—another Western ally—"nearly 200 detainees were stripped naked in a group while personnel of the United Arab Emirates forcibly examined their anuses." Detainees were raped with fingers, tools and sticks.
The same abuse took place in a migrant detention centre in the coalition capital Aden, where "survivors and witnesses described to the experts how each night guards selected women and boys for abuse."
Almost every month there's news of a coalition airstrike on a market, wedding, funeral, hospital or school bus. Scores of civilians are killed.
As the report said, "Coalition airstrikes have been and continue to be the leading direct cause of civilian deaths and destruction of civilian infrastructure in the conflict.
"The intensity of the air campaign has been unceasing, even after its impact on the civilian population became apparent."
It raises "serious concerns" about the targets the coalition chooses and the weapons it uses.
The coalition's blockade on Yemeni ports is also lethal. Since March 2015 imports to Yemen have been restricted. The country imports some 90 percent of its food, fuel and medical supplies.
"As of April 2018, nearly 17.8 million people were food insecure and 8.4 million were on the brink of famine," the report said.
"Health-care facilities were not functioning, clean water was less accessible and Yemen was still suffering from the largest outbreak of cholera in recent history.
"No possible military advantage could justify such sustained and extreme suffering of millions of people."
The only purpose is to punish millions of ordinary people to prop up Saudi and Western power in the Middle East.
It's a damning shame on the coalition states that are waging the war—and the British government that backs them.