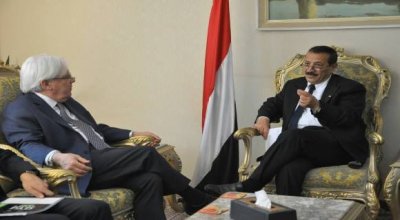 Foreign Minister meets UN envoy to Yemen
YemenExtra
M.A.
Minister of Yemeni Foreign Affairs, Hisham Sharaf, had a meeting on Sunday with the UN envoy to Yemen Martin Griffiths.
At the meeting, the UN envoy briefed the minister on the latest developments of his consultations with the president Hadi's authorities regarding peace talks.
The minister confirmed that the Saudi-led coalition hindered the arrival of the national delegation to the consultations in order to reach a political settlement.
Sharaf stated that the political leadership and the National Salvation Government would continue to support the peace efforts by the UN envoy.
"If the coalition countries and Hadi's authorities wanted the political settlement and the confidence-building measures, they would immediately launch the salaries of all state-employees and reopen Sana'a International Airport for commercial, humanitarian international aid and traveling the patients for treatment," the minister said.