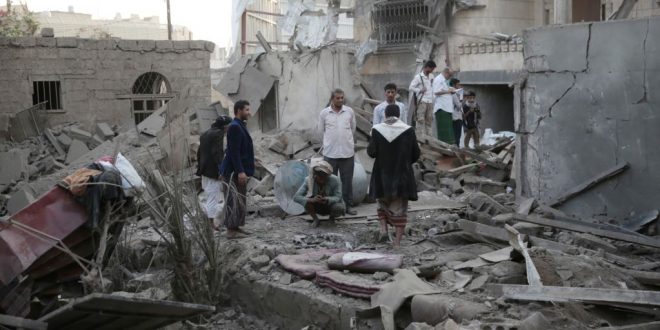 Saudi-Led Coalition Intensify its War as UN Envoy Visits Yemen
YemenExtra
SH.A.
Saudi Arabia has intensified its invasion of Yemen as the United Nations special envoy for the violence-scarred country visits the capital Sana'a in an attempt to cobble together a conflict resolution mechanism.
On Sunday, Saudi warplanes killed seven civilians, including women and children, in Bayda, attacking the central Yemeni province's town of Radman. Eight others were also wounded in the attack.
Earlier in the day, two people lost their lives in a missile attack on the northern province of Sa'ada, and four more died in airstrikes on the southwestern province of al-Hudaydah.
Also on Sunday, the UN official Martin Griffiths arrived in the capital to meet with officials from Yemen's popular Houthi Ansarullah movement.
The movement took over Yemen's affairs in 2015 after Yemen's former government resigned and its head, Abd Rabbuh Mansur Hadi, fled to Riyadh, leaving the country in political turmoil.
A Saudi-led coalition has been attacking Yemen ever since, trying unsuccessfully to restore the former Riyadh-allied officials. So far, around 15,000 have died during the invasion.
Griffiths invited the Houthis and the former officials to talks in Geneva in early September in an attempt to restore a UN-backed negotiation process that had broken off in 2016.
The Houthi representatives, however, could not attend the talks after Saudi Arabia refused to allow an Omani airplane, which had been meant to fly the officials, to land on the Yemeni soil.
Yemen's Saba news agency, however, said the United Nations had stricken an agreement to evacuate wounded Houthi fighters using Sana'a airport.
The World Health Organization also said that the UN was working to open a "humanitarian air bridge" to take Yemeni cancer patients for treatment at qualified facilities.
The WHO's country representative for Yemen Nevio Zagaria said, "The aim is to help patients suffering from cancer, chronic diseases and congenital anomalies receive the treatment they need," adding that 12 health conditions had been targeted.
The air bridge would operate for an initial trial period of six months, the WHO said, without specifying where the patients would be sent for treatment. "Eighty percent of patients for this flight are women and children," Zagaria said, and noted, "The air bridge is one of their last hopes."