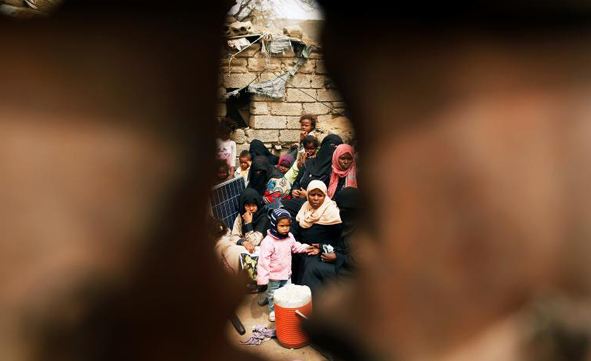 More than 230,000 Saudi airstrikes on Yemen since 2015 creating famine and starvation
YemenExtra
The UN estimates that nearly 20 million Yemenis could die of starvation by the end of this year. That's about 70 percent of the entire population.
That horrific number includes more than 2 million children who are already going hungry, including 500,000 who are suffering from severe malnutrition.
The people of Yemen have found themselves struggling not only for survival, but for a space in the Western media's war coverage.
In the shadow of the conflict in Syria, the men, women and children of Yemen are being deliberately starved and targeted by strategic airstrikes and an illegal blockade in a war initiated by Saudi Arabia and aided, massively if not entirely, by the United States.
Since 2015, Saudi Arabia, backed by Washington with over $200 billion in weapons assistance and billions more worth of military training under both the Obama and Trump administrations, took the already poorest nation in the Middle East and manufactured the worst humanitarian crisis of the modern era.
Within days of starting the war, Saudi Arabia imposed a total land, air and sea blockade, along with targeting vital agriculture and food supply infrastructure that sustains life for the 29 million Yemenis — all of which constitute war crimes under international law.
This meant that medicine, food, water treatment supplies, and basic necessities for survival were prevented from entering Yemen, exacerbating the already dire situation.
According to data collected by local rights groups, Saudi Arabia has waged over 230,000 airstrikes on Yemen since 2015, with the intention of deliberately targeting Yemen's lifeline for survival: its food supply.
Fishing boats, fishermen and fish markets became targets of the Saudi-U.S.-backed coalition warships and helicopters in the Red Sea, depleting Yemen's access to its key food staples.
To make food-supply matters even worse, the U.S.-backed Saudi air raids intentionally targeted agricultural fields, marketplaces and food-storage sites from March 2015 to the end of June 2018, creating the perfect storm to ignite famine and starvation.
Yemen relies on maritime imports for more than 80 percent of its annual staple food supplies.
Although staples remain available, the Saudi import restrictions, combined with a rapidly depreciating currency, mean food prices have skyrocketed.
Millions of Yemenis can no longer afford to buy food, forcing more than 75 percent of the population to rely on humanitarian assistance — aid that is mostly controlled and blocked by Saudi Arabia.
As the crisis rages on with no accountability in sight, Yemen's last remaining lifeline is under threat: Hodeida, relied upon by 18 million Yemenis, is home to the major port where virtually all aid and food must enter the impoverished and war-ravished nation currently importing 90 percent of its food.
According to UN estimates, a quarter-million men, women, and children could die from the military assault alone should the U.S.-backed coalition continue its invasion of Hodeida. In fact, Saudi warplanes have already bombed buses of refugees fleeing the airstrikes.
The goal of the deadly operation, dubbed "Golden Victory," is to capture Hodeida: a bustling port city and home to over 600,000 Yemenis.
Although Saudi Arabia catches most of the heat for this humanitarian catastrophe and the countless war crimes, another U.S. Gulf coalition ally, the United Arab Emirates, is leading the assault on Hodeida port.
An Emirati-led occupation of Hodeida would put nearly a million people at risk for suffering not only famine but instances of rape and torture, as the UAE currently occupies Southern Yemen and has set up dozens of illegal torture prison sites known for sexual torture.
While creating a state of affairs that intensifies hunger for over 20 million people, Saudi Arabia has faced no accountability from the international community. Instead, it has enjoyed receiving billions worth of weapons from the U.S. and the U.K., training from the U.S. military, and a major position on a human-rights panel at the UN, only enabling what can best be described as genocide.
«The coalition » escalates economic war: retaliatory measures to cut off the Yemenis' last resources