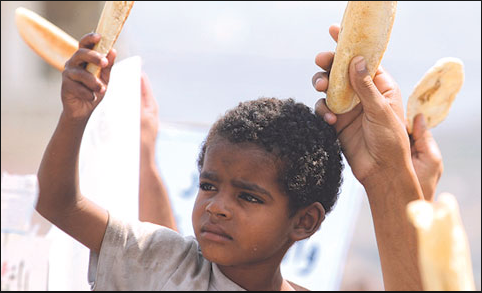 Negative Update on Humanitarian Situation in Yemen: Report
YemenExtra
SH.A.
"The war on Yemen," warns Save the Children International, "risks killing an entire generation of Yemen's children who face multiple threats, from bombs to hunger to preventable diseases like cholera."
This is tragically true for Hodeida right now, as the deliberate disruption to food and fuel supplies coming through Hodeida port has caused "starvation on an unprecedented scale." The ongoing US-backed assault by the Saudi-led coalition on the poverty-stricken country is also threatening to provoke a famine that risks the lives of more than 5 million children.
"This war risks killing an entire generation of Yemen's children who face multiple threats, from bombs to hunger to preventable diseases like cholera," Helle Thorning-Schmidt, CEO of Save the Children International, has declared in a new statement released on Wednesday.
The charity group says the total number of children in Yemen at risk of famine is now 5.2 million and that currently more than two-thirds of the country's population does not know where their next meal is coming from.
With the Saudi-led coalition – which receives both political and military backing from the Trump administration and the Pentagon regime – hampering the flow of vital supplies into the country by attacking the port city of Hodeida, a vital lifeline for goods and aid for 80 percent of Yemen's population, the unlawful war threatens the lives of millions across the country as well.
Make no mistake, this criminal campaign, this deliberate starvation gambit in Hodeida has had a direct impact on children and families right across Yemen. In the long run, this disruption to food, fuel and aid supplies through this vital port means death for hundreds of thousands of malnourished children unable to get the food they need to stay alive. It has already driven up the price of fuel – and as a result transport – to such an extent that families can't even afford to take their sick children to hospital.
Further still, a full closure of the port, would put the lives of hundreds of thousands of children in immediate danger while pushing millions more into famine and "could result in one of the worst hunger crises in living history," the charity group warns.
For this brutal war to end, the international civil society must hold the war profiteers to account in The Hague. The five largest US arms makers – Lockheed Martin, Boeing, Raytheon, Northrop Grumman, and General Dynamics – are also directly involved in the Yemen war.
The best way to bring the suffering in Yemen to an end is for Congress to reassert its war powers and end US refueling of Saudi aircraft and other arms support for this brutal war, and to block further sales of guided bombs to Saudi Arabia and the UAE.
Saudi Arabia and its American partners are attacking Yemeni civilians, a charge UN Human Rights Watch has validated. They have no right to continue their relentless bombing of non-military sites. When it comes to the destruction of civilian lives and livelihoods, that may be the least of it. They should also be held to account in The Hague for their illegal naval blockade of Yemen.