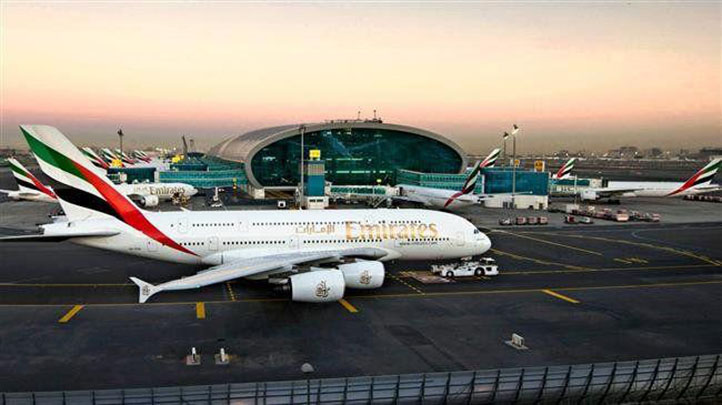 After the failure of Geneva peace talks ,Dubai airport hit in second Yemeni drone strike
YemenExtra
Y.A
Yemeni armed forces  have launched a drone strike on Dubai International Airport in response to the United Arab Emirate's role on their country .
A Samad-3 drone hit the world's third busiest airport during several attacks early Sunday.
They declared their first response attack on Dubai airport in August, saying it had disrupted air traffic, but which Emirati authorities denied.
They have intensified their attacks since a fresh UN attempt for peace in Yemen failed earlier this month after Saudi Arabia prevented Houthi delegates from flying to the venue of the talks.
Yemen's fighters previously claimed in July to have hit Abu Dhabi airport with a similar drone. That report was also denied by the UAE.
The UAE is trying to cover up its confusion at airports and losses from Yemeni air strikes, but the collapse of stocks and the fall in real estate prices, which have lost more than 25 percent of their value, according to economic reports, indicate the extent of damage that this economy, which relies on tourism and foreign workers .
The Head of the National Negotiating Delegation, Mohamed Abdulsalam said on Sunday that the UAE will not be able to continue to deny the strikes of the Yemeni Air Force and it will be forced to admit greater operations that will continue as long as the coalition's campaign and the siege on Yemen continue.
The Houthi spokesman added, "Even though Emirati authorities are trying to conceal the attack for the time being and deny air traffic disturbances at their airport, they will be forced to expect more operations should aggression and siege on Yemeni people continue."
The UN special envoy for Yemen, Martin Griffiths, warned that "critical actions need to be taken now" to avoid a full-blown famine. Martin Griffiths told France 24 that without exaggeration, Yemen faces a terrible humanitarian situation.
Additionally, their Navy Force and Coastal Defense carried out on Sunday special operation targeting a group of Saudi border guards war-boats inside Jizan port, inflecting them large losses and burning a number of their war-boats.
The special operation is the second of its kind in less than a month, the Yemeni Navy Forces targeted, on September 1, a Saudi military boat off Jizan coast.
In March 2015, the US -backed –Saudi-led coalition started  a war against Yemen with the declared aim of crushing the Houthi Ansarullah movement, who had taken over from the staunch Riyadh ally and fugitive former president Abd Rabbuh Mansur Hadi, while also seeking to secure the Saudi border with its southern neighbor. Three years and over 600,000 dead and injured Yemeni people and  prevented the patients from travelling abroad for treatment and blocked the entry of medicine into the war-torn country, the war has yielded little to that effect.
Despite the coalition claims that it is bombing the positions of the Ansarullah fighters, Saudi bombers are flattening residential areas and civilian infrastructures.
Sayyad Abdulmalik AL-Houthi claimed on one of his speech that Saudi Arabia is just a tool used by USA and Israel to fight Yemen to conquer it and wrestle control over Red Sea and Bab-AL-Mandab which will enable them to rule the world.
International human rights organizations accused Western countries, including the United States, Britain, France and Spain, of supplying the coalition in Yemen with weapons which are being used to commit possible war crimes in Yemen.