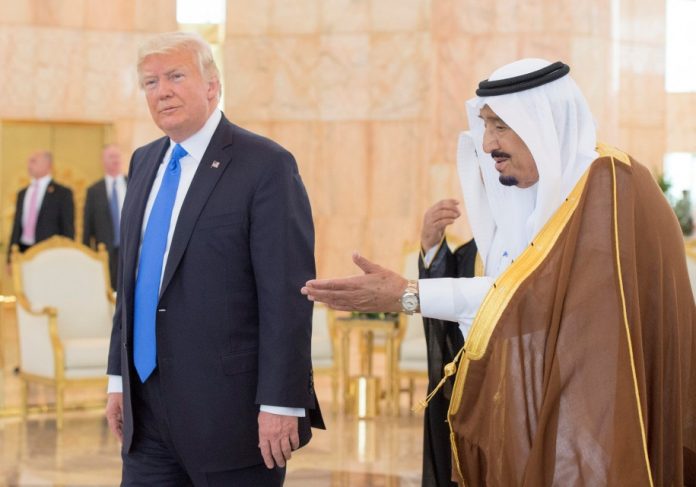 US Warns Saudi Arabia to Buy More Weapons
YemenExtra
Y.A
Just like the United States and in breach of International Law, the United Kingdom continues to aid and abet the Saudi-led war on Yemen, helping refuel aircraft and supplying intelligence and munitions to the coalition.
US President Donald Trump called on Riyadh to increase its military spending, with an eye on more weapons sale to the "rich" kingdom.
Speaking at a campaign rally in West Virginia on Saturday, the US president stressed that he had complained that Washington was not getting what it should from Saudi Arabia in a phone conversation with King Salman bin Abdulaziz Al Saud.
Trump said he had told King Salman that Riyadh has "trillions of dollars" and could pay its military bills.
"I love Saudi Arabia. They are great, King Salman, I spoke with him this morning. I said, king, you have got trillions of dollars. Without us, who knows what's going to happen. …. With us they are totally safe. But we don't get what we should be getting," he stated.
Trump also threatened to end what he claimed to be subsidies for the Saudi military.
"We are subsidizing their military. I said let me ask you a question. Why are we subsidizing the military — it's one thing if a country is in deep trouble and in danger," he noted, adding that "I said 'Saudi Arabia, you are rich, you have got to pay for your military. You have got to pay for your military, sorry'".
UK has supplied Saudi Arabia with more than £4.6bn worth of arms since 2015 – a period during which the Saudi regime and allies have committed horrific war crimes in Yemen, including massacres of children and other civilians.
According to Campaign Against Arms Trade, these arms range from helicopters and drones to armoured vehicles and tanks. In 2016, moreover, the UK government admitted that British-made cluster bombs had been deployed in the conflict.
The US-backed Saudi-led coalition has been striking Yemen since March 2015 to restore power to Mansour Hadi, a close ally of Riyadh. The Saudi-led aggression has so far killed and wounded at least 600,000 Yemenis, including hundreds of women and children.
Despite the coalition's claims that it is bombing the positions of the Ansarullah fighters,part of the Yemeni army forces, the coalition's bombers are flattening residential areas and civilian infrastructures.
According to several reports, the campaign against Yemen has driven the impoverished country towards humanitarian disaster, as the coalition's deadly campaign prevented the patients from travelling abroad for treatment and blocked the entry of medicine into the war-torn country.
Yemen is the world's largest humanitarian crisis with more than 22 million people in need and is seeing a spike in needs, fuelled by ongoing conflict, a collapsing economy and diminished social services and livelihoods.
Several Western countries, the United States and Britain in particular, are also accused of being complicit in the ongoing aggression as they supply the Riyadh regime with advanced weapons and military equipment as well as logistical , intelligence and ground assistance.