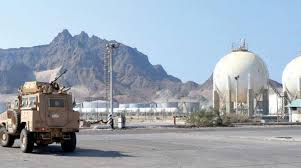 Oil-rich Shabwa turns into battleground between Hadi's gov't, UAE
YemenExtra
SH.A.
The confrontations between the exiled Hadi's government and the UAE-backed militia seem to have moved from the southern port city of Aden to the eastern oil-rich Shabwa province.
On Monday, Nusab district witnessed tension and military escalation between the so-called "Shabwani elite forces" loyal to the UAE-backed Southern Transitional Council and forces of the 163rd Brigade's forces loyal to Hadi government and Islah Party (Muslim Brotherhood).
The 163rd Brigade's troops stationed in Bihan district created new points in Nusab city and Markha city, which was met with an escalation by Shabwani elite militia.
One of the militia leaders confirmed that his forces are ready to confront what he called "the gangs coming from Marib."
While spokesman for the Transitional Council called on the council's militias and supporters in Shabwa to by ready to confront any forces coming from Marib.
According to observers, the tensions in Shabwa came after the UAE militia attempt to control all districts of the province, especially those rich in oil and gas.
Shabwa is one of Yemeni oil-rich provinces, where more than 500 thousand barrels of oil is produced and exported through the oil port of Al-Nushyma, which is under the control of the UAE forces. It is one of the most important oil ports in the southern provinces.
Also the second largest gas export facility in the Arab region located in Balhaf area of Shabwa province.
YPA