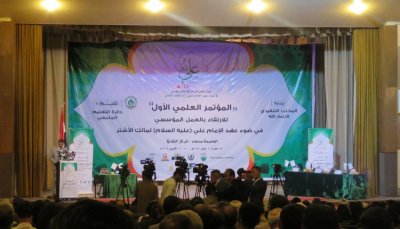 Sanaa launches 1st scientific conference to promote institutional work
YemenExtra
SH.A.
Ansaruallah's Executive Office on Monday inaugurated in the capital Sanaa the first scientific conference to promote institutional work in the light of "Charter of Malik al-Ashtar".
The Charter of Malik al-Ashtar is meant by the famous letter of Islamic Caliph Imam Ali ibn Abi Talib to Egypt's Governor at that time, Malik al-Ashtar, concerning principles of good governance.
The conference, which is organized by the Higher Education Department and lasts for three days, aims at developing the administrative work in all state institutions, as well as spreading the Charter's culture to ensure preservation of Islamic heritage away from western theories.
A group of researchers, academics and judges from all Yemeni universities and state institutions participate in the conference.
According to participants, the conference is the first of its kind in Yemen because it represents a high degree of coordination and cooperation between Yemeni universities and government departments in the framework of benefiting from Islamic heritage.