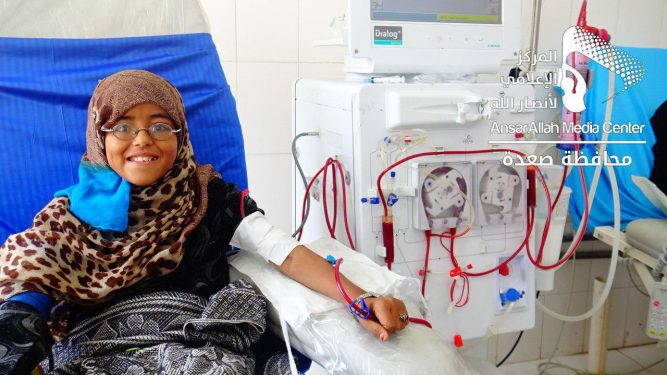 Dialysis centers in Yemen threatened with closure, patients suffer: photos
YemenExtra
M.A.
The Center for Renal Failure Patients at the Republican Hospital in Sa'ada is the only center in Sa'ada Governorate, frequented by hundreds of patients from the governorate and its districts as well as from neighboring governorates.
The suffering of these people has increased and so did the number of deaths of patients with renal failure due to the siege imposed by the Saudi-led coalition and the prevention of the entry of medications for treatment.
In the face of the intensification of the blockade, which prevents the entry of humanitarian aid into Yemen and the complete absence of the role of international organizations, there is a growing sense of fear of an imminent humanitarian catastrophe.
The number of patients in need of dialysis sessions in the center has risen to hundreds, amid the pain and suffering of patients facing death every moment because of the lack of treatment at the dialysis center and the Saudi-imposed siege.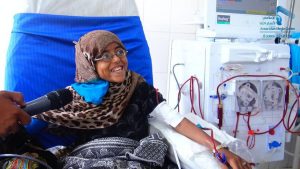 Siham Saleem Salim is a child with severe renal failure who has been required to undergo blood dialysis for six consecutive years at the Republican Hospital in Sa'ada.  The pain that afflicts Siham is heartwrenching for this girl has not exceeded ten years. Siham Salim tried to smile to hide her grief and pain: I attended three dialysis sessions a week. We rented a house here near the hospital for ten thousand riyals to maintain the dialysis sessions and we could not buy medicines due to high prices and I received some medicines from the kidney center. She states that she did not find any help from any local or international humanitarian organizations.
The assistant of the specialist in the dialysis department, Saleh Ahmed Qaid Qubaa, said the kidney department has more than 170 cases, adding that the center contains 16 dialysis machines operating 24 hours.
Quba said that some cases miss a dialysis session or two due to the difficulty of the road and their inability to reach the hospital because of economic conditions and the siege imposed by the coalition.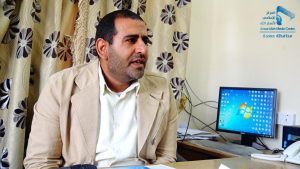 Dr. Abdul-Rahman Al-Nuaa said that the Saudi-led coalition caused the lack of access to medicines and treatments for renal patients, explaining that if the patient did not attend the dialysis session or did not find the appropriate treatment, he or she would possibly enter into a severe heart failure, coma, convulsions and death.
The Executive Director of the Society of Kidney Friends, Dr. Mohammad Al-Khamousi, said that the kidney center in the Republican Hospital suffers from lack of medicines and the outnumbered patients, which made it difficult to buy medicines because of the high prices.
He added that most cases in the kidney section are of low-income and can not access the hospital because of blocked roads, lack of transport and high prices of oil derivatives, which doubled the suffering of patients.
Dialysis centers in Yemen threatened with closure, patients suffer: photos
Prev
1 of 10
Next