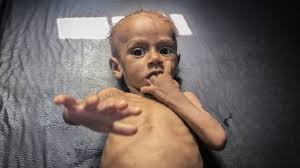 Once More, UNICEF Urges World to Take Action for Yemen Catastrophic
YemenExtra
SH.A.
Yemen has been broken by nearly four years of war and is close to total collapse, with UNICEF urging the world to take action.
UNICEF – the United Nations Children's Fund – says as many as 400,000 children are at risk of dying from severe malnutrition and nearly 2.5 million need medical treatment because they are not getting enough to eat.
Yemen has been broken by nearly four years of war and is dangerously close to total collapse.
Government forces backed by a Saudi-led coalition are battling Houthis who have taken control of several provinces, including the capital Sanaa.
The fighting, airstrikes by the coalition and an air and sea blockade have done huge damage to infrastructure and have destroyed much of Yemen's economy.
In many areas there is simply no money – and although there is food, a huge percentage of the population cannot afford to buy it, relying instead on meagre food aid.
The country is now facing a catastrophic famine.
UNICEF's representative in Yemen, Meritxell Relano, says the consequences could be unthinkable if a political solution is not found.
She added: "It's definitely totally preventable and actually the cause of this near famine or pre-famine situation in which we are is obviously the war.
"If the war continues this country is going into the abyss further and further."