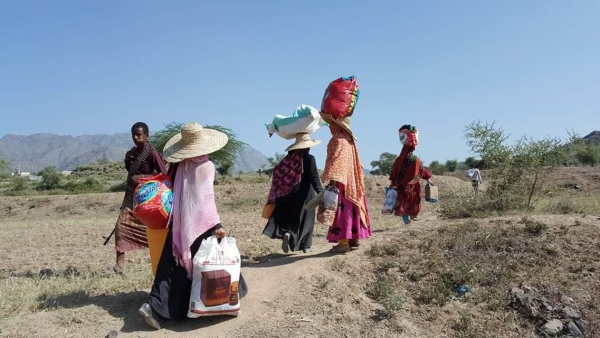 Displaced civilians in the Saudi-occupied Aden struggle everyday
YemenExtra
M.A.
The humanitarian crisis is worsening in the Yemeni province of Hodeidah as a result of the assaults that were launched by the Saudi-led coalition, in an attempt to control the port city of Hodeidah to fully impose a siege on the northern provinces that mainly depend on this port for food, medicine, fossil fuels etc…
This is what prompted the United Nations to warn of the possibility of new outbreaks of cholera and a wave of warnings launched by international humanitarian organizations, especially the United Nations, but the Saudi-UAE coalition ignored all this and launched a Comprehensive military operation against the city.
With the continuation of the military operations, this shows that Saudis along with the UAE are still refusing to go for peace talks, and also disregarding the humanitarian consequences, including the situation of the displaced, wherein the occupied areas, more than 415 families live in difficult conditions in the Rabat camp in Aden, southern Yemen, amid the absence of any assistance.
The suffering is manifested in its various forms, in that camp where the displaced line up in line so that they may get a drop of potable water to fill their thirst. Such scenes are reflected more than five hundred and fifty thousand Yemenis who fled Hodeidah to escape death caused by the Saudi-led coalition.
"The people have been displaced from Hodeidah because of the war and now we are in this camp, and we have no flour, no rice, no sugar, nothing," said Adnan Abdullah Hassan, an official of Aden's IDP camp in Aden.
In this camp, which was established about five months ago has not received any international assistance, which forced them to rely on themselves to provide the basic necessities for survival.
Hundreds of people are desperately waiting for joining this place, which lacks the simplest therapeutic supplies that are necessary to combat diseases that may be taken by the camp residents because of how filthy and smelly the camp is.
"In terms of services and location of the camp, it is far distanced so no one can go anywhere to buy anything if they don't have the money to buy it, like the treatments that the camp doctor describes for them," an official of the camp said.
Nevertheless,, those displaced people refused to give up on life by providing their children with the opportunity to learn with the equipment they had available, a wall holding what looks like a board to write on, and a piece of cloth that these young children could sit on and start getting education by writing and even drawing, which always puts a smile on their faces, despite all the struggles they go through every day.