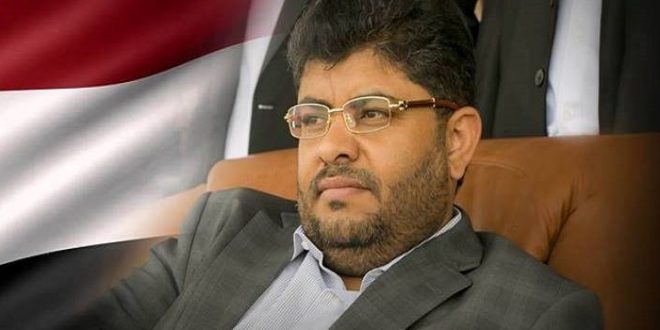 Al-Houthi: "Invaders Doomed to Failure in Attempts to Rage War in Yemen's West Coast"
YemenExtra
SH.A.
Head of the Supreme Revolutionary Committee of Yemen, Mohammad Ali Al-Houthi,  said that invaders are doomed to failure in their attempts to rage war in Yemen's west coast region.
"As previous escalation of the aggression in the West Coast failed, their current escalation will fail," said Mohammad Ali Al-Houthi, according to Yemeni media Almasirah.
He stressed that US-Saudi forces' escalation on the West Coast Front will fail.
"Whoever bet on mercenaries, foreigners, or locals, is betting on failure." Al-Houthi added.
Despite international warnings on the human conditions in Yemen, the Arab coalition led by Saudi and United Arab Emirates raged extensive attacks to infiltrate Hodiedah port in western Yemen since June 13, which have faced the resistance of the Yemeni army and committees.
The Saudi war has resulted in bringing famine to more than 14 million Yemeni civilian, which is half the population. According to Oxfam, a civilian is being killed because of the war every three hours. Moreover, the UN says that a child dies every 10 minutes due to starvation.
Over 16,000 Yemenis, including thousands of women and children, have lost their lives in the deadly military campaign.