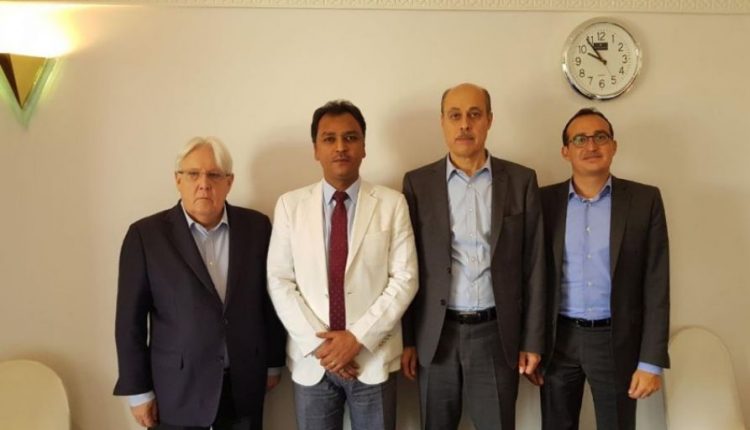 Supreme Council of the Revolutionary Movement of the South to Griffiths : Beware of the Yemeni southern cause!!
YemenExtra

Y.A
The head of the Political Bureau of the «Supreme Council of the Revolutionary Movement of the South» Fadi Baoum, on Sunday, that the UN delegate Martin Griffiths let the Yemeni southerners down and did not abide his commitments to their cause, stressing his categorical rejection of the upcoming round of negotiations in Sweden, and his willingness to fail it.
In a letter to Griffiths , he said he rejected any solution at the expense of the southern cause. He warned of the dangers of additional complications and crises that you will personally bear a primary responsibility for if you are determined to move forward and impose political issues on the southerners and their cause.
Baum referred to the briefing of the last UN envoy to the Security Council, in which he stated that "the future negotiations to be held in Sweden are to establish a framework of general principles for the solution, or a road map on the basis of the three references to the parties to the conflict in power in Sanaa," considering that this exceeded as promised by Griffiths , that «the existing consultations are to stop the war ,lift blockade and improve the humanitarian level only, and that any negotiations beyond the political issues and the resolution of crises and address the roots will be involving the southern components as key parties, and on top of the agenda of any negotiations will be the southern issue is present in terms of theme and representation. "».
He considered that "these negotiations and agreements are not binding on us, and we will seek to bring them down if necessary, especially if they impose political facts affecting the southern issue or rejected by our southern people,"
The head of the Political Bureau of the «Supreme Council of the Revolutionary Movement of the South that «any southern parties or figures are brought within the delegation of the so-called legitimacy or the coup, represent only themselves», adding that «the representation of the southern issue must be within independent delegation f
rom the parties to the power struggle in Sanaa, and the components of the movement that emerged from the southern revolution itself.
In the end of his letter, Baum expressed his hope that Griffiths would correct his course of action "to ensure success for you and for all of us, through the participation of the South and its cause, and we will support your efforts towards a comprehensive and just peace"»
Aden city, which was occupied by UK but now under the control of UAE, and the rest of the southern cities witness an insecurity situation that increased the assassinations of Imams of mosques and security and military leaderships.The province of Aden also witnesses a security fiasco that escalated with killings, looting issues , in addition to others that never happened before.
#YEMEN #USA #SaveYemenChildren #US #Saudi #UK #UN #KSA #UAE #ISRAEL #Syria #USAKillsYemeniPeople