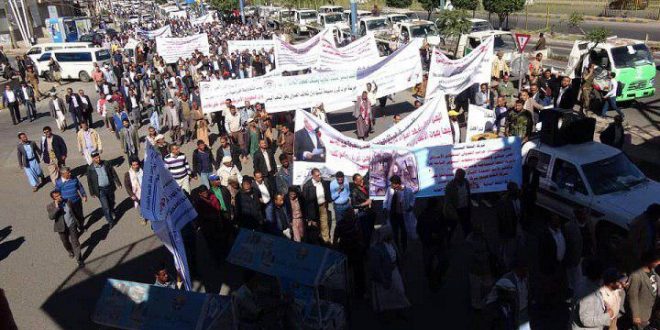 A Protest Denouncing Saudi Depriving the Entry of Oil Vessels into Yemen
YemenExtra
M.A.
On Monday, the Ministry of Agriculture and Irrigation organized a protest in front of the United Nations headquarter in the Yemeni capital of Sana'a, condemning the obstructions and preventions resulted by the Saudi-led coalition upon oil derivatives ships, in conjunction with the visit of the UN Special Envoy to Yemen Martin Griffith.
The protesters raised banners condemning the countries participating in the Saudi-led coalition for imposing an unjust siege on Yemen and preventing the entry of vessels loaded with oil derivatives which affected the agricultural sector that most of the Yemeni population of Yemen depends on.
The participants in the demonstration, which was attended by the Minister of Agriculture and Irrigation, Mr. Abdulmalik Al-Thawr and a number of officials, denounced the continuation of the Saudi coalition on Yemen, where its siege and economic war doubled the suffering of the Yemeni living, as well as causing damage to the agricultural sector and families who get their incomes from working in this sector.
They stressed that the absurd and arbitrary practices of the coalition, by blocking and preventing the entry of ships loaded with oil derivatives, are considered war crimes against humanity.
The statement that was released by the protesters slammed United Nations for not taking any practical steps to stop the coalition of aggression.
The statement expressed that the Ministry alongside the unions and cooperatives, agricultural and industrial associations are shocked by the continued cruel silence of the United Nations against the aggressive practices committed by Saudi Arabia along with its allies for not permitting the entry of oil and food vessels, and the consequent rise in costs of derivatives and commodities.
"The United Nations and the visit of the UN envoy to Yemen today in front of a turning point to prove its credibility and impartiality by taking a frank and practical position to stop the practices of the coalition against the Yemeni people." The statement said.
It is worth to mention that the Yemeni oil company has launched another protest in front of its headquarters for the same cause which was attended by the leadership and employees of the Ministry of Agriculture and Irrigation, in addition to its institutions and bodies, to denounce the obstruction of the US-backed Saudi-led coalition to the entry of oil derivatives.
On Monday, the Saudi-led coalition targeted the port of Hodeidah, which resulted in the killing of four people and injuring three others. This comes days after the visit of the UN special envoy to the port, where he stressed that the port must keep operating and fully functioning because of its vitality, which is used in importing %70 of commodities, medical supplies, oil, and many other commercial goods that more than 20 million Yemeni depend on.
Iran's Foreign minister said in a statement on Monday has offered the ministry's support for the forthcoming Yemen peace talks while urging the international community to play a "key and serious" role, including by exerting pressure on the exporters of arms to the aggressors in order to "facilitate the peace process in Yemen."
It also underlined the necessity of facilitating the process of delivering humanitarian aid to Yemen, saying, "It is the world's historic responsibility today to make efforts to end humanitarian crisis and catastrophe in the Arab country."