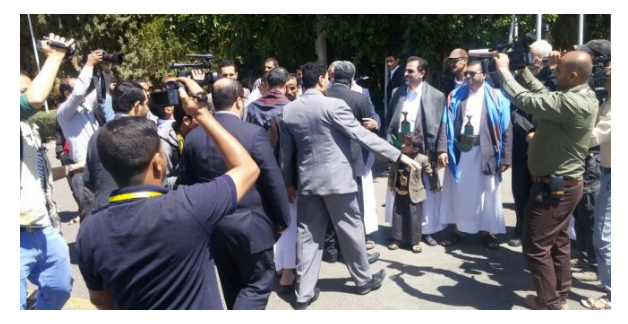 Yemen's National Delegation, Consists of Eight Members, Leaves Sana'a
YemenExtra
SH.A.
The national delegation of the National Salvation government has left Sanaa on Tuesday morning, heading to Sweden for the start of the next round of peace negotiations, official sources reported.
According to official sources, the national delegation left on Tuesday morning together with the UN envoy to Yemen, Martin Griffith, in a Kuwaiti airplane.
The Yemeni peace talks are expected to begin on Wednesday.
The move came after the names of the members of the national delegation were announced.
The national delegation consists of eight members headed by Mohammed Abdulsalam, the official spokesman of Ansarullah.
The others Sana'a government delegation members  are: Jalal al-Ruwaishan, Khalid Sa'id al-Dini, Abdul Malik al-Ajri, Ghaleb Mutlaq, Hamid Assem, Salim al-Mughalis and Ibrahim Omar Hajri.
The Hadi's government list includes 12 members: Khalid al-Yamani, Abdullah al-Alimi, Abdul Aziz Jobari, Yasin Makkawi, Mohammad al-Amiri, Ali Ashal, Osman Majali, Minister of Agriculture, Rana Ghanem, Marwan Damaj, Brigadier General Askar Zaile.
The news agency "Reuters" reported that the talks may begin on Wednesday, as a result of the efforts of the UN envoy, who stepped up his movements in the last period to avoid repeating the fate of a previous tour collapsed in September.
The agency quoted a member of the political bureau of Ansarullah Mohammed al-Bukhiti as saying that the delegation of the Sana'a government will travel to Sweden on Tuesday morning aboard a plane provided by Kuwait and that Griffith will accompany the delegation on the trip.