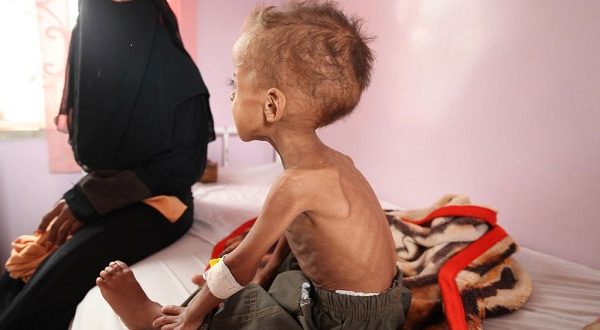 In Yemen, Every Day New Cases of Acutely Malnourished Children, No Hope for Treat
YemenExtra
SH.A.
Twenty Yemeni children huddle together outside Khokha hospital, hoping to be let into a clinic that serves as a lifeline for tens of thousands.
On the narrow pavement, a boy dressed in purple leans limply against his mother. In her lap is a baby with expressionless eyes.
The hospital, located in a western province, is one of the war-torn country's better-resourced clinics.
Nearly four years into a war that has pushed 14 million Yemenis to the brink of starvation, even Khokha hospital cannot meet the needs of all the malnourished children who arrive daily.
"We take the phone numbers of the patients when there aren't enough beds for them, and when a case is discharged, we call them back for treatment," says Abdullah Zuhair, a doctor in the children's ward.
The long-impoverished country has been crippled by a blockade, economic collapse and the war by a Saudi-led coalition.
Khokha hospital is located just 100 kilometers — a two-hour drive — south of port city Hodeida.
The hospital serves as the main facility for health services in the district, home to 30,000 people, as well as Yemenis in neighboring areas.
And every day, without fail, new cases of acutely malnourished children turn up for the doctors to treat.
Inside the hospital, staff work around the clock, weighing children, taking measurements and injecting nutrients for those too weak to chew. One-year-old Yahia weighs in at 5.5 kilograms (12 pounds) — nearly half the average weight of children his age.
As the baby waits for emergency treatment, he cries inconsolably in his mother's arms.
"We receive a large number of cases regularly, most of them suffering severe malnutrition," says hospital director Yahia Zuheir. But the hospital's seven rooms "are not enough to meet demand".
Over 18,000 missile attacks on markets, hospitals and cultural centers by Riyadh and coalition partners UAE, Bahrain, Kuwait, Qatar, Egypt, Jordan, Morocco, Senegal and Sudan, the borders between the two belligerents remain largely unchanged.
UNHRC data indicates that at least 8 million of the nation's 28 million people require emergency food assistance immediately, while humanitarian workers in the nation have identified areas in which people are eating leaves to survive, as an estimated 2.3 million people in the country have been driven from their homes and are now refugees.
As the Saudi-led coalition disrupts supplies of food and other necessary items, including medical equipment, through the sea, land and air blockade.