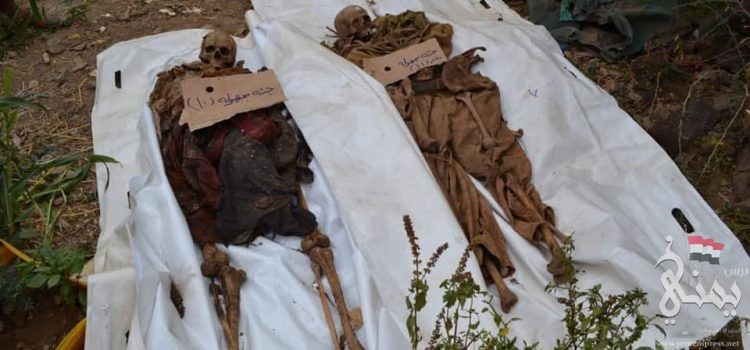 Watch .. more dead bodies found in mass graves in Taiz
YemenExtra

Y.A
Local sources in the province of Taiz confirmed the discovery of mass graves and bodies of a number of dead inside an al-Aokar belonging to al-Qaeda in the city.

The sources pointed out that a number of villas and basins were raided, armed elements belonging to the so-called "Al-Qaeda", taken by headquarters, in the neighborhood of the cross-city district of Jahmila, and found the bodies of a number of dead, some may be analyzed.

According to the sources, the bodies of some people were strangled and others were separated from their bodies after being cut and stabbed with knives. Most of the bodies were not identified because of their decay due to the long time of their burial.
An investigation by Associated Press has found that the coalition waging a war on Yemen has secured secret deals with al-Qaeda terrorists in the violence-wracked country, recruiting hundreds of its militants in the ground operations against the Houthi Ansarullah movement , part of the Yemeni army forces.
#YEMEN #USA #SaveYemenChildren #US #Saudi #UK #UN #KSA #UAE #ISRAEL #Syria #USAKillsYemeniPeople