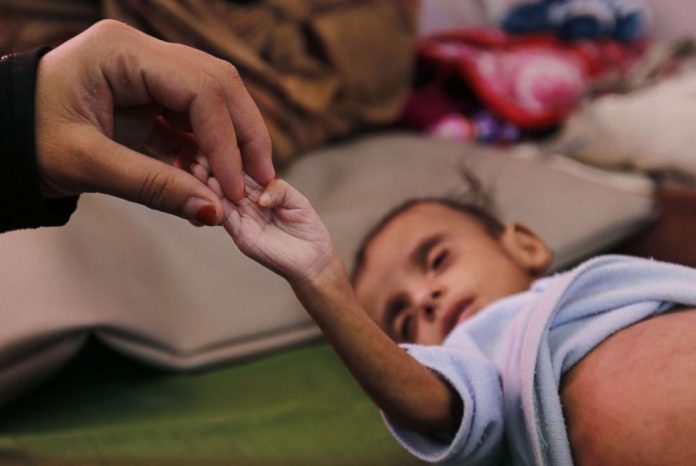 How the War in Yemen Could End in a Matter of Days?
YemenExtra
SH.A.
By: Reese Erlich
The murder of dissident Saudi journalist Jamal Khashoggi has intensified Washington's debate over the war in Yemen. On February 13, by a 248-177 vote, the House of Representatives passed a War Powers Act resolution to end U.S. participation in the war.
But officials in Washington, D.C. don't generally know that under terms of a little noticed U.S. law, President Donald Trump could end the Yemen War in a matter of days.
U.S. arms manufacturers such as Boeing and Lockheed Martin supply 57 percent of the military aircraft used by the Royal Saudi Air Force. The U.S. corporations hire hundreds of U.S. civilian mechanics and technicians to repair, maintain and fuel fighter jets and helicopters. The Arms Export Control Act requires Saudi Arabia to use the military equipment for legitimate self defense.
Saudi Arabia's consistent pattern of disproportionate attacks on civilians belies any claim of self defense, according to Brittany Benowitz, an attorney and former Congressional staffer who analyzes arms control issues.
"The Trump Administration is currently not complying with the requirements of the Arms Export Control Act," she told me. The act requires the President to stop supplies of spare parts and maintenance of Saudi fighter planes if they violate the act.
Those measures would undermine Saudi military capability fairly quickly, much faster than banning new arms sales, according to William Hartung, a defense analyst at the Center for International Policy. "It would affect their ability to fight immediately," he said in an interview.
Representative Ro Khanna, Democrat of California, a co-sponsor of the War Powers resolution against the Yemen War, told me, "We would never tolerate the U.S. military having this kind of civilian casualties. The war makes us complicit."
Two U.S. laws, the Arms Export Control Act and the Foreign Assistance Act are supposed to strictly control use of American-made weapons. Third country nationals are prohibited from operations and maintenance of U.S. aircraft in Saudi Arabia. That means either Americans or Saudis must hold those jobs.
Lawrence Korb, senior fellow at the Center for American Progress and former assistant secretary of defense, explained that the laws aim to protect U.S. military secrets.
"We have the most sophisticated weapons in the world," he told me. The law "makes sure you don't have someone from another country who would jeopardize our security."
U.S. policy is also supposed to encourage training of Saudis as mechanics and in other skilled jobs so the country can diversify its workforce. But it hasn't worked out that way.
Saudis don't have the desire or the educational background for those jobs, said Joel Johnson, an analyst with the Teal Group, a company that analyzes the aerospace industry.
"U.S. contractors are heavily involved in making those things fly," he told me. "A good madrasa teaching the Koran does not provide students the skill sets needed to be trained on maintaining an F-15."
Richard Aboulafia, a vice president at Teal Group, told me that operations and maintenance have become a very profitable niche market for U.S. corporations. Defense contractors can make as much as 150 percent more profit from operations and maintenance than from the original arms sale, he said. In 2017 Boeing cut a $480 million deal to maintain and repair Saudi F-15 fighters.
Arms manufacturers, Aboulafia said, "use the razor blade model." They make money from the initial plane sales, but "parts and maintenance provides the real money."
The views expressed in this article belong to the author.