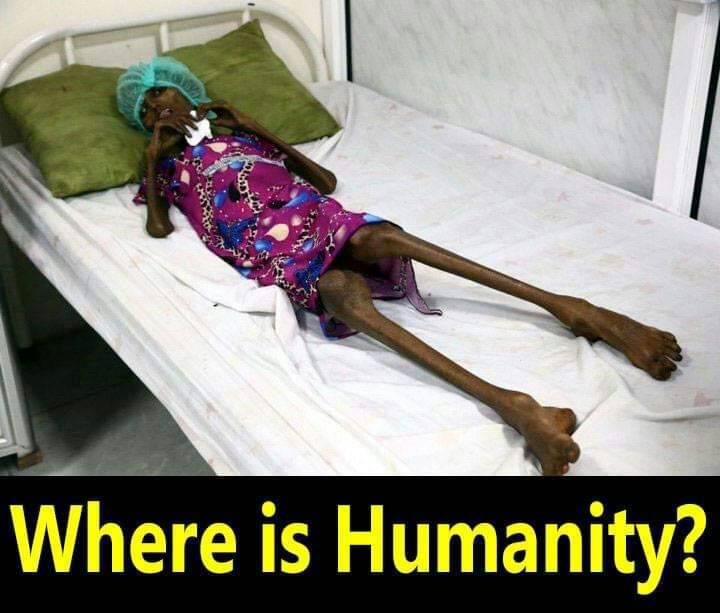 The Saudi-led coalition makes Yemeni children suffer tragicly
YemenExtra

Y.A
There is no justification for the Saudi-led coalition, backed by the US,'s massacres in Yemen which claimed the lives of children and caused them to suffer from malnutrition civilians.
"Children did not start the war in Yemen, but they are paying the highest price.  Some 360,000 children are suffering from severe acute malnutrition, fighting for their lives every day.  And one credible report put the number of children under 5 who have died of starvation at more than 80,000," United Nations Secretary-General Antonio Guterres told a donor conference in the Swiss city of Geneva on Tuesday.
More than half a million children have been forced to leave their homes in the past six months, most of which have fled a major coalition's military onslaught on Yemen's port city of Hudaydah during July and August, said the Yemen director of UNICEF, Meritxell Relano.
Last year, , the regional director for the Middle East and North Africa at UN children's agency UNICEF, told reporters in the Jordanian capital of Amman "Yemen is today a living hell — not for 50 to 60 percent of the children — it is a living hell for every boy and girl in Yemen," Geert Cappelaere.
Saudi Crown Prince Mohammed bin Salman , for its part, threatened to target women and children in Yemen irrespective of international criticism that the Saudi-led alliance attacking Yemen is targeting civilian facilities and critical infrastructure in the conflict-plagued Arab country.
Bin Salman issued his threat during a meeting with the coalition's military commanders following the massacre of more than two dozen children in Yemen's western coastal province of Hudaydah earlier, saying"Do not care about international criticism. We want to leave a big impact on the consciousness of Yemeni generations. We want their children, women and even their men to shiver whenever the name of Saudi Arabia is mentioned,".
The August 9 Saudi air raid on Sa'ada hit a school bus as it drove through a market in the town of Dhahyan, killed a total of 51 people, among them 40 children, and injured 79 others, mostly kids and sparking outrage from international human rights groups and UN officials.
At least 31 civilians, mostly children were killed after a coalition's airstrike hit their vehicle in Yemen's Hudaydah province, only two weeks after a strike by the military coalition hit a school bus and killed scores of Yemeni children, while,Yemen's Arabic-language al-Masirah satellite television network, citing a spokesperson of the country's Health Ministry, reported that all the victims, whose vehicle was also destroyed in the strike in Durayhimi city , were internally displaced people.
Al-Masirah, citing local sources, had reported earlier that at least 22 children and four women lost their lives in the deadly strike, adding that all those on board the vehicle were killed.
various media reports cited Yemen's Health Ministry as reporting the death of the girl, named as Amal Hussein, A seven-year-old severely malnourished Yemeni girl, whose picture recently further alerted the international community to the disaster-hit nation's plight, died amid the ongoing coalition's war on the country.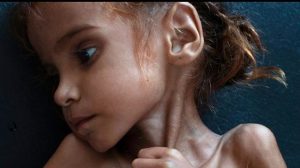 Amal's picture turned up in The New York Times last week, showing her lying on a bed at a health center in Aslam in the northwestern Yemen Hajjah Province, 144 kilometers (90 miles) northwest of the capital, Sana'a. Her mother, Mariam Ali, has told the paper that she died on October 26.
The mother said her heart was 'broken', adding, "Amal was always smiling. Now I'm worried for my other children."
On the other hand, child soldiers from Sudan's Darfur have reportedly been fighting on behalf of the coalition in the frontline of the deadly war on Yemen, with money being their only motive.
The New York Times reported that the Saudis have used their vast oil wealth to outsource the war, mainly by hiring survivors of the Darfur conflict to operate in Yemen, many of them children.
Citing several Sudanese paid fighters and lawmakers, the report said that as many as 14,000 Sudanese paid fighters have been fighting in Yemen alongside Saudi-backed forces while at least hundreds of them have been killed so far.
Almost all the Sudanese come from Darfur and most of them belong to the Rapid Support Forces, a tribal militia blamed for war crimes during the Darfur conflict, the report added.
The leader of Yemen's Houthi Ansarullah movement says Yemeni women and children are being brutally killed by US and Western-made munitions in the ongoing coalition's military campaign against Yemen.
Speaking on the occasion of birthday anniversary of Prophet Muhammad's daughter, which is observed in Islamic countries as Women's Day, Houthi noted that"Yemeni women and children are being viciously killed by American and Western military hardware,".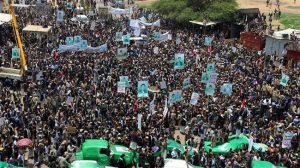 Yemeni people have taken to the streets of different Yemeni cities to vent their outrage at the coalition that has waged a multiple-year deadly war on the country and caused one of the worst humanitarian crises of modern history there, holding anti-Saudi protests in the capital, Sana'a, and the southwestern city of Ta'izz.
In March 2015, the US -backed –Saudi-led coalition started  a war against Yemen with the declared aim of crushing the Houthi Ansarullah movement, who had taken over from the staunch Riyadh ally and fugitive former president Abd Rabbuh Mansur Hadi, while also seeking to secure the Saudi border with its southern neighbor. Three years and over 600,000 dead and injured Yemeni people and  prevented the patients from travelling abroad for treatment and blocked the entry of medicine into the war-torn country, the war has yielded little to that effect.
Despite the coalition claims that it is bombing the positions of the Ansarullah fighters, Saudi bombers are flattening residential areas and civilian infrastructures.
However, Saudi Arabia relies heavily on the US in its brutal war on Yemen. Washington has deployed a commando force on the Arab kingdom's border with Yemen to help destroy arms belonging to Yemen's popular Houthi Ansarullah movement. Washington has also provided logistical support and aerial refueling.