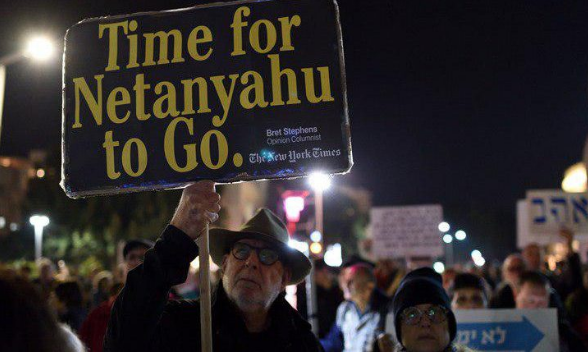 Protests Demand Netanyahu to Step Down
YemenExtra
SH.A.
The streets of occupied Jerusalem and Tel Aviv have witnessed Israeli demonstrations against the Israeli Prime Minister Benjamin Netanyahu over his involvement in corruption cases.
Israeli radio reported that hundreds of Israeli settlers demonstrated on Saturday demanding Netanyahu to resign.
They carried banners reading "The Prime Minister of crime," and "It is time for Netanyahu to go."
Other demonstrations took place in front of his home in occupied Jerusalem.
On the other hand, Netanyahu's supporters gathered and carried banners reading: "The People with you "and" my Prime Minister is Netanyahu."
The occupation police separated the pro-opposition demonstrations.
Netanyahu, 69, who has run for a fifth term after nearly 13 years in power, is not legally obligated to step down after being indicted, unless all appeals are convicted and exhausted.
He said on last Thursday after the attorney general announced his decision: "I intend to continue serving you, as Prime Minister, for many more years."
Website.