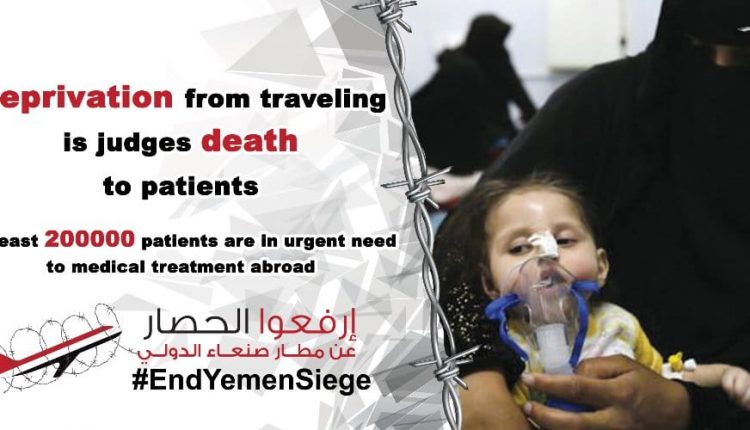 Civil Aviation Authority Calls on Int'l Organizations to Press Coalition's Countries to Open Sana'a Int'l Airport
YemenExtra
SH.A.
Spokesman for the General Authority for Civil Aviation and Meteorology, Director of Air Transport Dr. Mazen Ghanem, called on the international organizations operating in Yemen to pressure the aggressor countries to open fully the Sanaa International Airport.
In an exclusive statement to the official Saba News Agency, Ghanem stressed the necessity to these organizations in taking effective and immediate action to pressure the countries of the US_Saudi coalition to open Sana'a airport to save the lives of thousands of Yemeni patients from death.
He pointed out that the coalition had responded to the pressure exercised by 12 international organizations following the closure of Sanaa International Airport in August 2016 and the opening of the airport in front of flights for organizations to relieve pressure on them and mislead the international community that the airport has been opened for all flights.
He pointed out the need to open the Sanaa International Airport in front of civil flights as it serves all segments of Yemeni civil society.
He explained that all laws, covenants and international treaties criminalize any actions that cause the closure of such facilities.
The Unjust siege, the continuous bombardment, the stifling crisis and all that caused by the war waged by Saudi-led coalition against Yemen in general and Hodeidah province in particular, have created a tragic environment for malnourished children, which has affected Yemeni children in the first place and the society as whole in all its categories.
Yemen is marking a grim anniversary this week: it has been four years since a western-backed military coalition led by Saudi Arabia, which has led to the deaths of at least 60,000 people and caused the world's biggest humanitarian crisis.