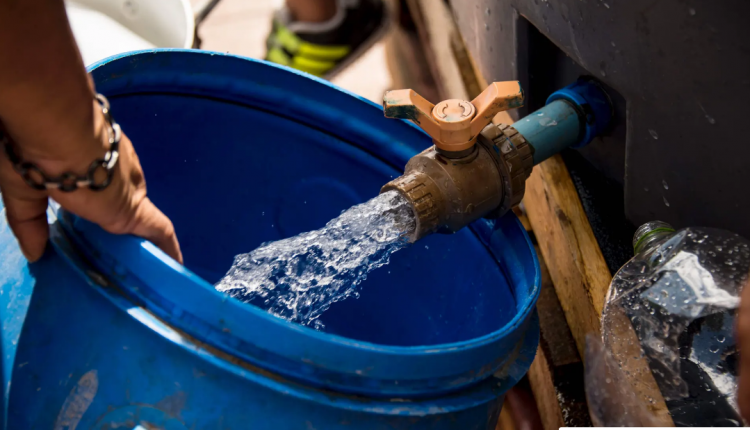 Millions of Yemenis Lack Access to Clean Water
YemenExtra
SH.A.
Millions of Yemenis are suffering from lack of clean and safe drinking water due to the targeting by coalition of aggression to desalination plants and facilities and the sewage system.
Officials are seeking for solutions to ensure clean and safe drinking water for citizens, especially after many outbreaks of water-borne diseases.
The water crisis became the daily problem of citizens because of the continued war, it has prompted the official authorities to search for solutions, one suggestion was the national plan for water safety, which was discussed in the presence of a number of international organizations, it aimed to ensure the delivery of drinking safe water to consumers.
Saleh Al-Sherif, director general of projects in the Ministry of Water said that: "The plan for water safety means tracking multiple water systems in Yemen in five steps tracking water from the source to the consumer."
Abdul-Jalil Sharabi, director of awareness in the General Authority for Water Resources confirmed that: "At the moment there are water-related diseases, including cholera epidemic which has spread very frightening in recent times.
Hadi Qarayah, head of the General Authority for Water Resources affirmed that: Targeting of many water sources in our country, such as reservoirs and water projects, by coalition's raids led to a shortage of clean and safe water.
Only a tiny proportion of Yemeni families are connected to the municipal supply. 70% of Yemenis live in rural areas. Even in the capital Sana'a only 40% of the houses are connected – and they're lucky if water comes out of their taps more than twice a week.
Millions of Yemenis – more than 60% of the population – struggle daily to find or buy enough clean water to drink or grow food.
Four Years of War on Yemen:
According to recent statistics issued by the Law Center for Rights and Development, the total number of civilian deaths amounted to 15,579, including 9,870 men, 2,452 women and 3,267 children, while the number of wounded reached 24,421, including 18,380 men, 2,557 women and 3,484 children.
The statistics indicated that coalition air raids destroyed 24,000 service and economic facilities over the past four years.
The destroyed facilities included 15 airports, 16 ports, 2,077 roads and bridges, 2,015 government facilities, 923 schools and institutes, 3638 agricultural fields, 695 mosques, 132 university buildings, 295 factories, 226 tourist facilities, 61 sports facilities, 39 media buildings, 175 archaeological sites and 7,431 commercial establishments.
The coalition warplanes also destroyed and caused damage to 4,514 transport vehicles, 232 fuel trucks, 344 fuel and gas stations, 675 water tanks and networks, 275 hospitals and health facilities, 41,915 homes, 158 power plants and networks, 391 telecommunication networks and stations, 602 food trucks, 310 farms of chicken, cattle and bee and 430 fishing boats, according to the statistics.